Sharing A TV Dinner With Jonathan Ames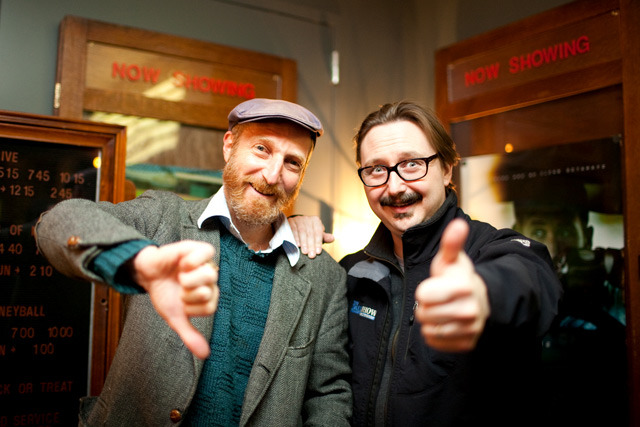 Jonathan Ames, the writer behind HBO's Bored to Death and various not-boring books, strikes us as a man into his food and drink. OK, we're not calling you fat Jonathan Ames. "I once bought a tuna sandwich, without a napkin, out of the palm of the hand of a French bum in the city of Montpelier," Ames told the Village Voice in a food-focused interview in 2009.
Food plays a role in the Ames worldview. In fact, last night we were invited by our friends at Gothamist to attend the kickoff of their TV Dinner series at Nitehawk Cinema in Williamsburg, Brooklyn. Ames was there, introducing his latest Bored episode to a group of journalists and fans. It was intimate—only about 25 people could fit into the screening room. And they served us dinner in quasi TV trays. The menu featured eggplant parmesan and truffle mac and cheese from consulting chef chef Saul Bolton. Plus, wine.
As the lights came on after the half-hour episode guest starring John Hodgman and Dick Cavett (!!), our glasses were attentively refilled and Hodgman and Ames answered some questions. Wine was refilled. Repeat. Nice one, Gothamist. More coverage.
---