NHL Eat And Drink Power Rankings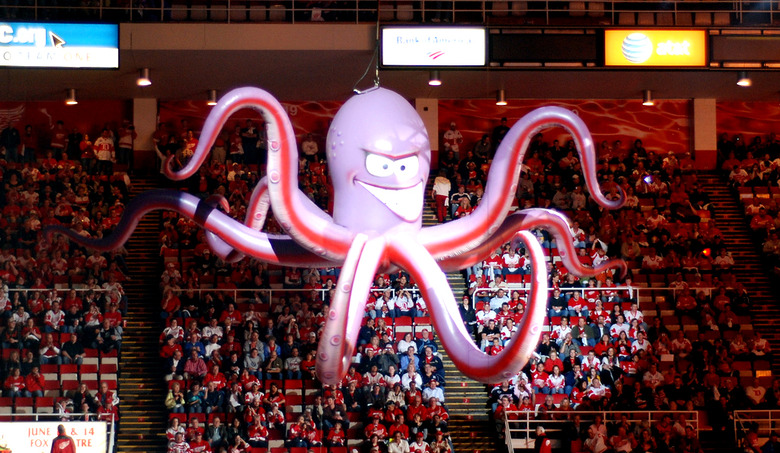 With the NBA season looking more and more unlikely (gentlemen, please compromise!), we want to make it easier for you to embrace a new sport—or remember why you love it. Whether you're a diehard hockey fan or looking to get back into it, we're about to prove to you that the culinary options around the league are world class. Over the next two days, we'll be breaking down the Top 10 Food and Drink Teams in the NHL — from tailgating in North Carolina to tossing octopus in Detroit. Well, there's more on the menu in Detroit than flying cephalopods.
10. New Jersey Devils
The Team: The Devils play in Newark, New Jersey, which is luckily easy to get to for us New Yorkers — because there's not a good chance you'll want to stick around before and after the game. The team's not off to a great start either. Plus side? Tickets are on the cheap side (we found them for $20 a pop) and in recent years the Prudential Center and businesses in the downtrodden city have made a strong effort to not only support the team — but entice fans with cool events and deals.
The Food: One of those enticements? The upscale dining fare at recession-like prices. The Acela Club, which is open to all ticket-holders during games, has a buffet, à la carte dining and a wine list that could actually make fans want to put down their beer cups. Sample dishes include pork with grilled polenta and mussels with Azorean-style chorizo. The buffet, which features a carving station, antipasto bar, hot buffet items, a sauté station and dessert, runs $42 a person.
9. Washington Capitals

The Team: The Caps have boasted one of the best squads in the East since they signed Russian hot shot Alexander Ovechkin in 2005. Ovechkin quickly became one of the brightest faces in the league, with his trademark gap toothed smile and un-ironically bad haircut — having helped carry the Caps to the playoffs for the past four years. The team plays in the Verizon Center in the Chinatown area of Washington, DC.
The Food: Nobody is suggesting that game time is a good time to try to start a diet, but the team has installed a buffet of healthier, Kosher-friendly and even gluten-free options for fans with special dietary needs. Among the interesting grub available: vegetarian sandwiches, tossed smoked turkey chop salad and hand-rolled pretzel bites. Not counting calories? Smoked brisket, pork nachos and cheesesteaks are all available. Our favorite part of this arena's food comes in their amazing way of serving beer. Instead of concentrating on the pour, the Verizon Center has machines that fill cups from the bottom up (check out the video here).
8. Detroit Red Wings

The Team: Tickets to Red Wings games are extremely hard to come by – and fans are known best for their rowdy traditions (we'll get into what they do with food later). The team plays at the Joe Louis Arena, which is beloved for its old-school, grungy feel that is comparable to going to old Yankee stadium. Oh and the hockey isn't so bad either – the team is currently in first place in its division.
The Food: One of Hockeytown, USA's most famous traditions involves throwing perfectly good food (that is, octopus) onto the ice. The practice goes back to 1952 and it's now considered proper etiquette for fans to throw what some may call calamari onto the ice – despite disapproval from NHL officials. As for food to eat rather than throw, locals recommend Hockeytown Cafe, which is about a mile away from the stadium and is loaded with cool Red Wings gear, deep-dish pizza and a decent beer menu. Once you're inside the walls of the stadium, choices are pretty limited to a few chains and other standard stadium grub like Tim Hortons, Buffalo Wild Wings, Little Caesars and a sub sandwich shop.
7. New York Islanders
The Team: While the Long Island branch of the three NHL teams in the New York area had glory days in the late-'70s to mid-'90s, times have been tough recently for the Islanders, who haven't made the playoffs since the 2006-07 season. The good news? They're off to a decent start this year and have a promising young core of players. The squad plays at Nassau Veterans Memorial Coliseum.
The Food: The team may be likely to leave Long Island once their stadium lease ends in 2015, but that doesn't stop fans from finding a good way to make a quick trip to the stadium at bargain prices – and find beer for even cheaper. One local told us that the best way to see a game was to go to the sports bar Champs, order some pitchers and wings – the wings may never make it – but if they do or don't, the bill is rarely over $15. Then, stumble to the arena.
After the game, ticket stubs get you $1 beers when the bar at Champs does special menus with appetizers and drinks named after current players and Islanders alumni. Once inside the arena, The Coliseum has more sweet-tooth options than many hockey arenas of its kind, including Carvel, Cupcake Gourmet and a stand actually called Sweet Tooth. For more substantial food there's a beer garden with barbecue and wraps. The team even provides a handy map to concession stands to make it easier to pick seats based on your stomach.
6. Dallas Stars
The Team: Though they don't play in what you would think of as a traditional hockey town, the Dallas Stars are sitting pretty in second overall. Since arriving in the Lone Star State in 1993, the squad has won seven division titles, two Western Conference crowns and one Stanley Cup. Despite their success, Dallas is still a football town and tickets to the game are pretty easy and affordable to come by (we found them for $12 on Stubhub). The team plays at the American Airlines Center in downtown Dallas, which is also home to the town's NBA team. You may have read about them.
Food: For eating outside the arena, locals recommend Lockhart Steakhouse for a pregame meal — which is known best for its sauceless smoked meat. Sausage will run you $5 a pop and sides like baked beans are available for as little as $2. There's also a branch of Tom Colicchio restaurant Craft, if you want to go more upscale. And to get fired up before the game, locals recommend Victory Tavern (more for its proximity to the stadium than for the food or beer).
Once inside the stadium there's a kid-friendly spot at Dr. Pepper Bottling Plant, and more grownup fun at the el Jimador Tequila Bar — where the tequila cocktails are, of course, highly recommended. If that's not enough tequila, there's a Margarita Bar where imbibers can choose from a variety of tequilas and flavors. At Chef's Corners, there's smoked prime rib sandwiches and barbecue brisket nachos available. For a quicker bite, High Steaks offers steak sandwiches and steak salad on the go and Edge of Texas has build-your-own nachos, super chicken burritos and churros.
Click through for the top 5 teams in the NHL for food & drink.
---
More Sports and Food Talk on Food Republic: