Napa Valley Grille's Autumn Sandwich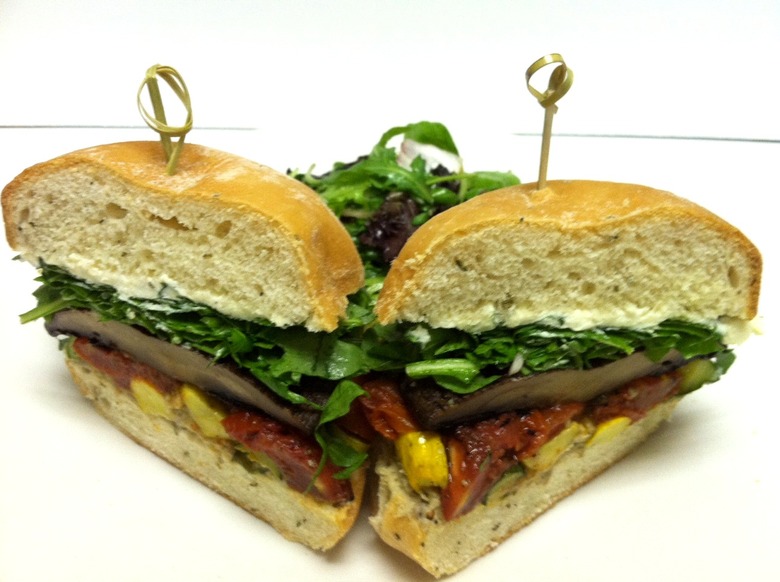 Autumn is harvest time in Napa Valley, but most there think more about harvesting grapes than vegetables. Although the Napa Valley may not have an autumn like the Northeast (the temperature actually tends to rise rather than fall there), Napa Valley Grille in Westwood, California is certainly justified in celebrating seasonal vegetable combinations on a sandwich.
Executive chef Joseph Gillard has a commitment to supporting small local farms, having grown up on a 40-acre farm himself. Gillard gathers as much as he can from local farms, farmers' markets and artisans, and features this seasonal produce in his menu. Napa Valley Grille's autumn vegetable sandwich is the perfect showpiece for in-season vegetables with its base of eggplant charmoula (eggplant marinated in a Middle Eastern mixture of herbs, lemon juice, garlic, cumin, coriander, chili peppers and saffron), topped with petite zucchini, artisinal goat cheese, a meaty portobello mushroom and a heap of fresh mixed greens.
The vegetables and greens are sourced from Country Fresh Herbs in nearby Tarzana, and the goat cheese is produced a mere 40 miles away by Drake Family Farms. These farm-fresh vegetables arrive tableside in an oven-fresh, buttermilk bread bun. According to Chef Gillard, "The inspiration behind my new autumn vegetable sandwich is from people like myself who are looking to decrease the amount of animal protein in our diet. The sandwich is rich, flavorful and satisfying — you don't even miss the meat!"
Note that while Napa Valley Grille has two other locations, in Minnesota and New Jersey (who knew?!), all three menus are different and the Autumn Vegetable Sandwich is only served at the California location. So get thee to Cali!
---
More Sandwiches of the Week from Food Republic: