A Tribute To The White Castle Slider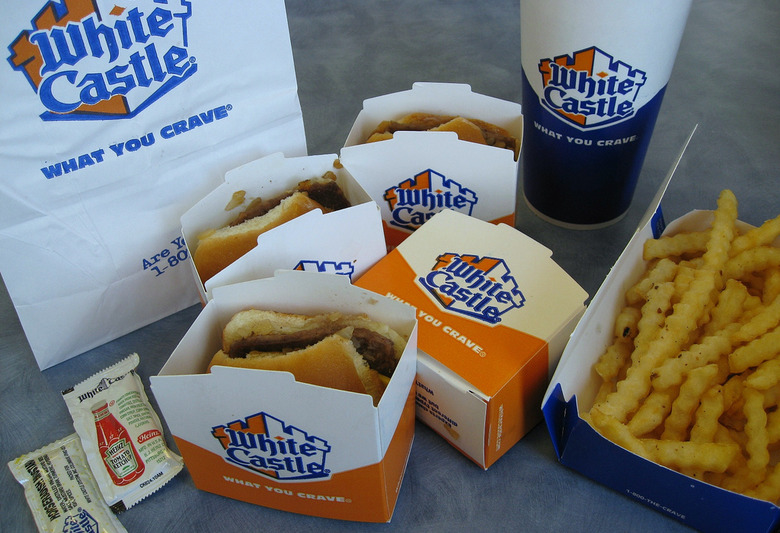 The first time I ate a White Castle hamburger I was wildly stoned, the kind of brain-fried high you only get when you're 17 and sitting in a friend's car, listening to Built To Spill and cruising around the suburbs with no destination in mind.
At a stoplight, my friend Tim turned around and stared at the red-eyed quartet crowded into his backseat. He drove the sort of massive, maroon-hued American auto that late-'70s pimps favored, meaning that four could commandeer the rear and still have wiggle room. "You guys need to eat," he said. "You need White Castle."
Tim cranked the indie-rock stoner jams and piloted us to the nearest inexpensive burger hut. Though I was no stranger to fast food, having developed an affinity for quarter-pound burgers from Rally's (its sister restaurant is Checkers) at an early age, I'd never eaten at White Castle. My omission was even more glaring given that I grew up in Dayton, Ohio, an hour's drive the chain's headquarters in Columbus. But then as now, I'm a man who seeks out new culinary experiences.
We pulled into a parking lot and entered the dumpy, fortress-shaped White Castle, which recalled the dingy home of a once-regal king exiled to the suburbs and forced to work for minimum wage. At the time, I toiled for minimum wage, manning the deep fryer for Burger King. My bank account hovered in the low three digits, meaning I could make the rare splurge on dirt weed, the occasional CD, a late-night meal of Waffle House hash browns and, indeed, fast food.
"Everything is so...cheap," I mumbled, mesmerized by the fluorescent lights and signs touting burgers for less than 50 cents. With the five-dollar bill in my wallet, I could eat like royalty—the king of White Castle. "Seven sliders," I ordered, then watched the bored, grease-sheened cooks work their magic.
They carefully placed square, cardboard-thin beef patties—with punched holes, to facilitate faster cooking—onto a bed of rehydrated onions steaming on the griddle. Within minutes, the patties were cooked thoroughly, snuggled onto squishy buns, finished with a pickle, ketchup and mustard, and nestled into paper boxes. I stacked my bounty into a pyramid and inserted a slider between my incisors, biting into a sandwich that was far greater than the sum of its parts.
The bun was squishy. The pickles were floppy. The beef was an onion-flavored disc. But crammed together, the slider was chewy and soothing—greasy baby food for an adult. I devoured my seven burgers in minutes, barely stopping to breathe. "That was so good," I moaned, a statement that, in hindsight, I have to attribute to the drugs.
Over the ensuing years, I've tried to eat White Castle burgers when sober. If only the Harold and Kumar flick had come out a decade earlier, I wouldn't have made this mistake. When not swayed by alcohol or a smoke, these sliders show their flaws. The beef is subpar, the buns too soggy—I mean, what the hell do I expect for 59 cents?
But under the influence, the sliders' rough edges are sanded smooth, and I crave them like the cigarettes I once inhaled 20 times a day. Where will you find me on Saturday nights at 2 a.m.? In the words of Das Racist, "I'm at the White Castle...[eating] tiny-ass hamburgers, tiny-ass cheeseburgers."
---
Would you like to pay tribute to a particular foodstuff? Hit us up on Twitter: @Foodrepub