Up Next: Occupy Against Big Food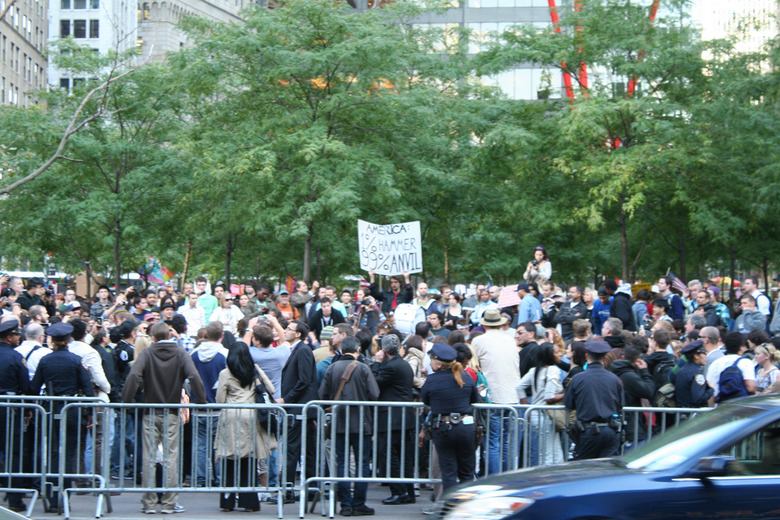 Up next for the Occupy Wall Street protesters? "Occupy Against Big Food," a rally in NYC's Zuccotti Park Saturday, Oct. 29 at 1 p.m. that will turn the spotlight on food issues such as Genetically Modified foods (or GMO's), farm subsidies and other issues that organizers are lumping together as the "corporate feeding of America."
Today's New York Post featured an article about someone posting a fake "A" grade on Zucotti Park's food service station, meant to mimic the letter grades the city's health department issues to licensed eateries (Zucotti's temporary kitchen is not city-licensed, according to the report). In the accompanying photo, a person carries a sign reading "Chefs Against GMOs," a sort of foreshadowing of the weekend's coming event. Blogs such as Slow Food USA's have been covering the food-related issues surrounding the protests in Zuccotti Park and throughout the city, which have ranged from speeches against corporate control of agriculture to a foray into several of Danny Meyer's restaurants (Gramercy Tavern, Union Square Cafe) to protest the restaurateur's place on the board of Sotheby's. (Writer Tom Philpott also neatly summarized the connection between food activism and the anti-corporate protests in his piece "Foodies, Get Thee To Occupy Wall Street" in Mother Jones.)
But this coming Saturday's rally looks to be the first focused purely on food activism. Agribusiness and GMO's promise to be buzzwords, and with the Farm Bill looming in Congress, there will likely be posturing about trying to influence representatives on these issues.
The Obama administration has been one of the most active of any in terms of food policy, but the messages have mostly been about getting Americans to eat better, to grow vegetables and to educate children. The hot-button issues that the Occupy Against Big Food rally will center on are more complicated, and highly political. At a recent James Beard Foundation conference on sustainability, White House chef and senior policy advisor Sam Kass said of GMO's, it's "not an issue we have tackled." Pressed for his thoughts on when the U.S. would join the European Union in requiring labeling of GM foods, Kass replied, "That's anyone's guess."