Talking Cookbooks & Gumbo In New Orleans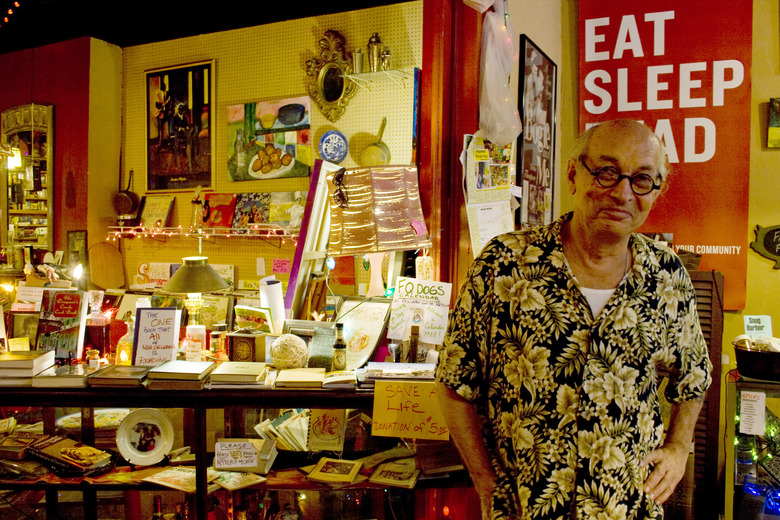 Philipe LaMancusa
Amidst the T-shirt shops and kitsch stores in New Orleans' French Quarter, there exists a cook's paradise: The Kitchen Witch Cookbook Shop. It takes your eyes a minute to adjust to the dim light inside and to the many decorations (think strings of Christmas lights intertwined with cheese graters), but once you do you find yourself in a cozy room where every conceivable surface is covered with cookbooks.
In the middle of it all at a big wooden table sits Philippe LaMancusa, co-owner of the shop with Debbie Lindsey. On top of selling books, the two sell their own spice mixture, homemade vanilla extract, a local Creole mustard and kitchen knives. LaMancusa, a former chef, shared with us his key to a perfect gumbo and what cookbook he can't live without.
Why did you open the store in the French Quarter?
I had the store open in another location in 1999. We pulled the plug in 2003. I had taken a job at as a chef in a steakhouse on Bourbon Street and then as a pastry chef. Because of Katrina (in 2005), we evacuated to San Francisco and when we came back, I was walking down the street wondering if I should go back to work again and just thought I can't. Then I saw this location. This building has been in my landlady's family continuously since 1830, so it's not like they're new to the area. They weren't looking for a T-shirt shop to move in, they weren't looking to get high rent. And that was perfect for us. Basically, the philosophy is as long as you pay your rent you can do anything you want to.
Why a cookbook shop?
Well, when I was living in San Francisco with my daughter, working as a chef, I had 5,000 of my own cookbooks. My daughter came to live with me when she was 18 and she would see me coming in with cookbooks and she would roll her eyes. Some of them would be duplicates of cookbooks I already had. Collecting cookbooks is an addiction; it's a harmless addiction, but it's an addiction nevertheless.
So I came up with this excuse that when I retired I was going to open up a cookbook store. And so I was just collecting inventory, that's all I'm doing, just collecting more inventory. I was working in San Francisco opening up another restaurant for another set of investors and one morning I turned to my daughter and said I had nothing in common with my life anymore. For the past 10 years I hadn't had a day off and I thought I don't know who that man in the mirror is. She said you're always talking about New Orleans (because I had lived here previously with her when she was young) and you're always talking about opening a cookbook store so just do it. And I said, alright.
What cookbook could you not live without?
We had cookbooks in my apartment on the second floor on Dauphine Street when Katrina happened and a tree came down on the building, causing the roof to cave in. We found out later that we were the lucky ones. It took us six days to get out of there. When we finally did get out, I had to look at my cookbooks and think, these might not be here when I get back. There were rumors of [authorities] flooding the French Quarter to relieve pressure on the Ninth Ward, and there were people setting fire to the French Quarter because of civil disobedience. So I had to walk away and think, well, what cookbook do I want to take with me? So I picked up a 1974 copy of the Escoffier Cookbook because it was given to me by my mentor who I worked with in Denver.
As the local cookbook expert, you must know where to get the best gumbo in New Orleans.
Probably the best place these days, if you're not going to go into the neighborhoods, the best place in the French Quarter is Coops. Some places that make their stuff in house might make 40 gallons of gumbo at a time. Well that's obligatory gumbo. You get better gumbo at a grocery store where they make it in one pot because they're there to please the neighbors. It's hard to please somebody with something like gumbo who lives here because everyone here knows that they make the best gumbo. I know I make the best gumbo. So when I eat gumbo out, it always falls short of my gumbo, because it's not mine.
Any secret gumbo-making tips?
My second wife's mother used to make gumbo with chicken necks, crab carcasses, shrimp with the shells on it, oysters, etc. When you watched her make gumbo you just didn't know what she was doing. One day I saw her put oregano into her gumbo and I said, "why did you do that?" She just said, "It needed something green." To this day I still put oregano in my gumbo. They say that gumbo should be just like the Mississippi, it should be too thin to plow and too thick to drink.
631 Toulouse St, New Orleans, LA, 504.528.8382