Alton Brown Supports Sustainable Seafood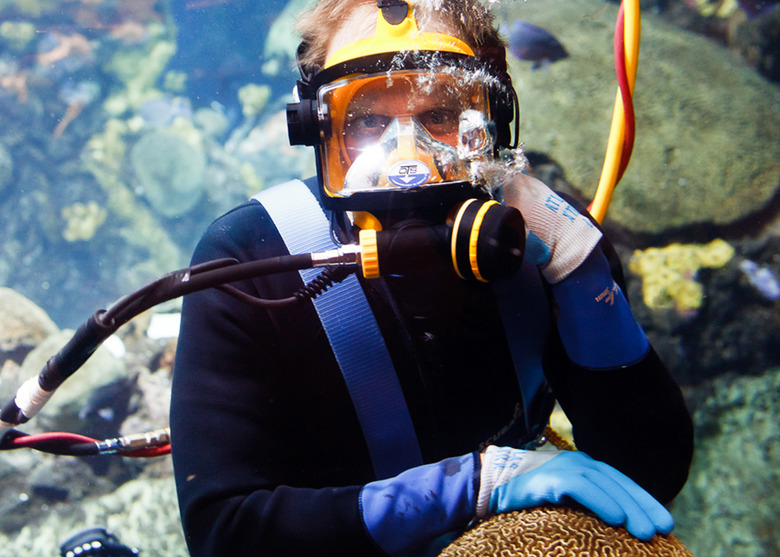 Alton Brown
When the Tennessee Aquarium in Chattanooga set out to design a campaign about sustainable seafood this past summer, it lacked something crucial: a wow factor. Seafood politics can easily morph into a dry topic, but only if you let it.
Possibilities to help publicize the "Serve & Protect" campaign, which launched in late September, were tossed around among the staff, and then Alton Brown's name came up. A few phone calls later, including one that marketing director Cindy Todd made to Brown's wife DeAnna, and the Food Network celebrity was on board with the program. Under the partnership, Brown developed recipes using seafood that has not been overfished and is safe to eat, along with shopping tips for buying seafood.
"He seemed to think the stars were aligning and that our collaboration can make a difference," explains Jackson Andrews, the aquarium's director of husbandry and operations. "We wanted to teach people country of origin — where did the fish come from, where was it caught?" Between 650,000 and 750,000 people visit Tennessee Aquarium each year, and so the possibility for outreach is huge.
"We wanted to put our oar in the water, so to speak," says Andrews. "The ocean is very overfished. We think something should be done about it."
Like Monterey Bay Aquarium's "Seafood Watch" program, which includes the serving of sustainable seafood inside the aquarium's restaurant, a pocket-friendly seafood-buying guide and a shopping app, the goal is to train people to seek out the better choice.
To kick off the program at Tennessee Aquarium, Brown hosted a cooking demonstration in the aquarium's IMAX 3D Theater on Sept. 22, followed by an elegant seafood dinner of several courses, prepared by chefs from Chattanooga restaurants. Then, on Sept. 25, Brown hosted the Cast Iron Cook-off at a farmer's market in Chattanooga. Chefs were challenged to buy ingredients at the market and make a dish using them, along with a sustainable-seafood item provided as protein (Gulf of Mexico shrimp) and a secret ingredient (nori), within a specified time. Chattanooga restaurants that participated in the "Serve & Protect" kick-off, such as 212 Market and Bluewater Grille, continue to serve sustainable seafood to diners whenever possible.
"Celebrity endorsement is huge. Alton is a wonderful person to work with. He has been concerned about sustainable seafood for some time and we provide a good forum for him," says Andrews. "He's made himself very available."
---