The Declaration Of Winedependence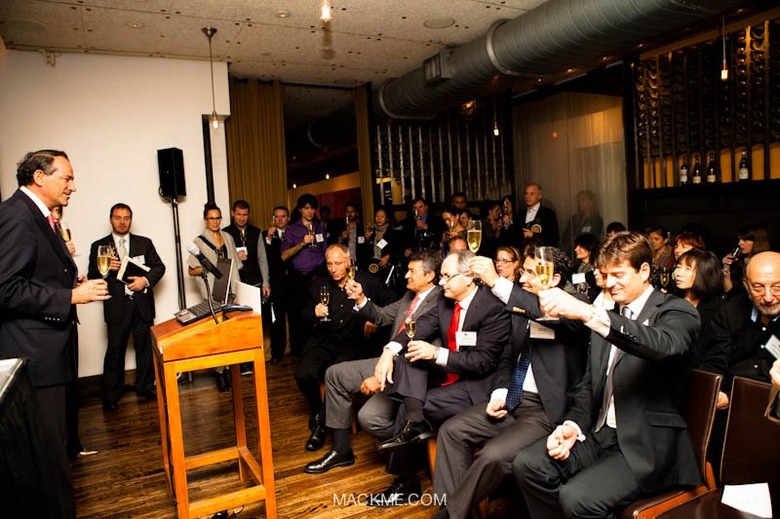 Champagne. Chianti. Chablis. Rioja. Sometimes we forget that these are more than just the names of wines, but also the names of the regions the wines come from.
A wine's taste is a reflection of the land the grapes are grown on, and while certain tastes from certain regions are well-respected, there are those who believe that the place and origin of wine is still not respected enough. Yesterday in New York City, a select group braved the wind and rain to discuss this issue.
The gathering was held under the exposed lightbulbs of Tom Colicchio's Craft Restaurant and hosted by the organizers behind the Declaration to Protect Wine Place & Origin. Colicchio, Daniel Boulud, Ferran Adrià and 6o major chefs and sommeliers have signed a petition backing the declaration, which dates back to July of 2005. It was initially signed by six wine regions: Champagne (France); Jerez (Spain); Napa Valley; Oregon; Porto (Portugal); and Walla Walla, Washington. Yesterday's announcements added new regions Chianti (Italy), Long Island and Western Australia, and focused on improving regional IDs on American wine labels.
A few highlights:
Rob Autry of Public Opinion Strategies released the results of a poll conducted this past September, which stated that "79 percent [of U.S. consumers] consider the region where a wine comes from an important factor when buying a bottle of wine."
Porto's representative, Paulo Russell-Pinto, expressed his opinion that wine made in the United States has improved greatly in quality over the last 30 years, and thus producers from such respected wine regions as Napa and Walla Walla have all the more reason to protect their names and places of origin.
Bruno Paillard of Paillard Champagne also expressed his respect for American wine, adding that high quality can leads to increased threat of imitation. He suggested that American wine regions have to be protected, similar to Champagne.
While certain steps against wine fraud have been taken globally, the United States is behind on labeling regulations, according to those at the conference.