Tailgate Toe-To-Toe: Bears Vs. Buccaneers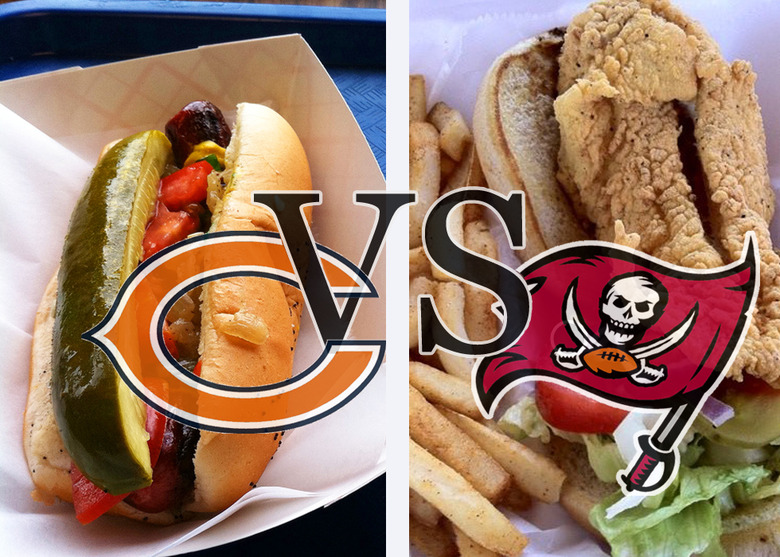 Bears V. Bucs
Tailgate Toe-To-Toe picks a weekly NFL game and analyzes the matchup—on the field and in the parking lot.
Bill Swerksi's Super Fans would argue that this isn't even a match-up. It's a one sided, Ditka-less onslaught for the city of Chicago and Da Bears. Culinary-wise, it's hard to argue against the home of Grant Achatz, Rick Bayless, chops, sausage, deep dish pizza, Rock n' Roll McDonald's and of course, red hots. Chicago dogs are on another level —and it's in the details: the poppy-seed bun, the pickle spear that runs lengthwise with the wiener and pieces of tomato that deceive the eater into thinking there are health benefits to ingesting the Vienna Beef frankfurters.
To make it simple, order one "dragged through the garden" to ensure you get all those antioxidants piled on top of the gobs of mustard. Today, Hot Doug's stands at the meaty forefront of the over-crowded Windy City hot dog industry, offering upscale variations such as cranberry and shiraz wild boar sausage and hoity-toity toppings like foie gras.
At Soldier Field, the Fork U Tailgaters Club formed for one reason and one reason only: Karma. Founding members Ron, Bill and Dennis had always relied on the kindness of strangers during their football road trips, so they figured it was time to give back to out-of-towners coming to enjoy some pigskin in the Second City. The F.U.T.C. serves up a sampling of local gastronomic flair: Polish Kielbasa and Portillo's Beef Sandwiches – and obviously the aforementioned Chicago Style Hot Dogs. The Ghost of Chris Farley would be proud.
Clearly, when you think of Tampa Bay, your mind beelines to sense memories of grouper sandwiches. Who could forget the first time they sunk their teeth into the Florida fish po'boy – blackened or fried grouper stacked with lettuce, tomato and tartar sauce? While the seafood snack hasn't really blended into a foodie's zeitgeist, its origins are undoubtedly in Tampa Bay. Frenchy's in Clearwater Beach, self-proclaimed inventor of the dish, serves up what they believe is the Tampa Bay equivalent of a cheese steak in Philadelphia. Only problem is, fish and cheese don't always mix harmoniously.
What the Buc? More of a rhetorical question, as it's really just the fan-based coverage site of the Pirate-themed football club. This is a group not just interested in tailgating, but providing up-to-date news, game recaps and links to various live streaming talk radio and pre-recorded podcasts. Their tailgate, legitimized by Chef Red and his double grill "Graham Ram," seems to be a well-executed afterthought on Sundays after an entire week of exhaustive Bucs coverage. When you lay out your signature Bloody Mary Chicken Wings, what's there to complain about? BucaRino, described as the Czar of the tailgate, spices up the party with Jack-Sparrow-ish panache and plenty of swash-buckling décor.
Bears QB Jay Cutler's not in a food coma — he's just been knocked on his ass 36 times this year. That's the fourth most for any quarterback in the NFL this year. The Bears' only saving grace seems to be their short passing game and the YAC Matt Forte wracks up after a grab. They're 3-3 and very much still in the hunt after taking an easy Sunday night win vs. the Minnesota Vikings, mainly thanks to the play-making Devin Hester's 48-yard TD reception and 98-yard kickoff return for a score.
TB's Josh Freeman showed some flash reminiscent of his breakout 2010 season, throwing for 303 yards, 2 TDs and no picks against the New Orleans Saints. With LeGarrette Blount inactive, this becomes Freeman's offense. Veteran Earnest Graham played nicely vs. the Big Easy, but those 31-year-old legs can't carry the full load much longer. Sure, the Bucs 26-20 win causes fans to experience temporary amnesia, forgetting the prior week's 48-3 loss to San Francisco — but the Bears should do nothing to help jog their memories. It'll be a hard-fought game as both teams try and remain in the playoff conversation. GAME PICK: Buccaneers 27, Bears 20
Does a grouper sandwich taste as good as it sounds? It can't, because it sounds awful. FOOD PICK: Chicago Style Hot Dogs, 45 Grouper Sandwich 6
---