Celebrity Chefs For City Harvest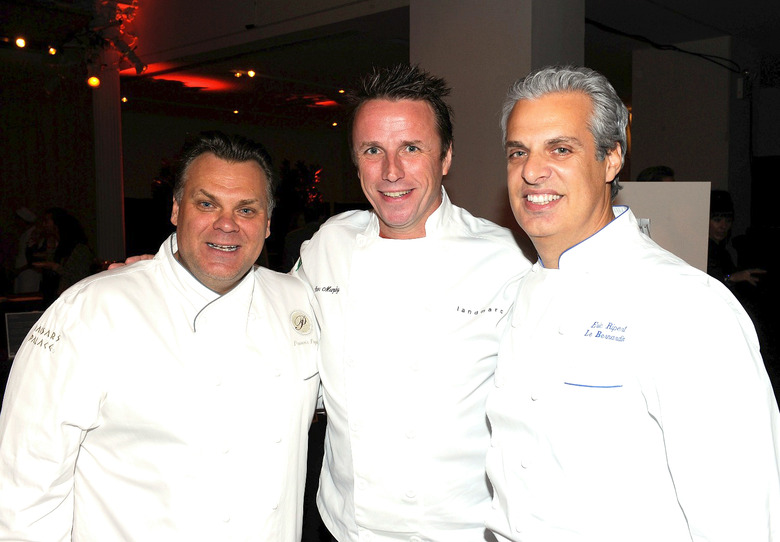 A lot of people wonder what happens to the leftover food in restaurants at the end of the night. Thanks to City Harvest, extraneous food from NYC's élite kitchens is now distributed to nearly 600 community food programs, providing meals for 300,000 New Yorkers weekly.
At its 17th Annual Bid Against Hunger benefit on Tuesday night at the Metropolitan Pavilion in Manhattan, City Harvest raised over $1 million from bids on celebrity chef items like a traditional clambake with Marc Murphy, a private wine class and party at Eric Ripert's Le Bernardin — and a custom-made Orange County Choppers motorcycle. In addition, benefit attendees were treated with tastings from over 60 of the city's best chefs and restaurants. The proceeds will provide an additional 4 million meals for New York's hungry.
"The success of Bid Against Hunger is incredible because it's a night that brings such amazing chefs together for a cause that is so close and so personal to all of us in the industry," says City Harvest board member Murphy, owner of several NYC restaurants including Landmarc and Ditch Plains (and a recent guest editor of Food Republic). "I got involved with City Harvest because my profession is all about feeding people, and the idea that some people are not able to do something so basic as eating a meal is unacceptable to me."
For more information or to make a donation, go to City Harvest's website.