5 Great Restaurants In Paris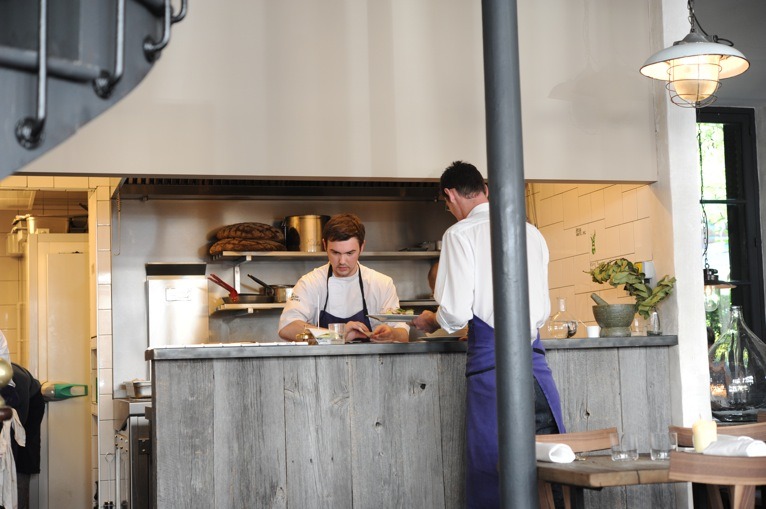 Doug Crowell is the owner of Brooklyn, NY restaurant Buttermilk Channel, where he's impressed critics and Carroll Gardens residents alike with Americanized bistro fare and a Go USA wine list that pulls bottles exclusively from the Lower 48. On Wednesday he wrote about the Parisian dining scene from a Brooklyn restaurateur's perspective. Here he details the best places he visited.
First off, let me say that there are a dozen places I was sorry to miss. Six days is not that much time in Paris. Maybe Food Republic will send me to Paris for a month to survey the entire scene! [Edit: we're working on it!]. In the meantime, here's 5 great Paris restaurants I have to recommend:
Le Comptoir du Relais
You can't get in for dinner so don't even try. Show up for lunch at 12 p.m. sharp (the place fills in 15 minutes) and you will have the meal of a lifetime. We did. Three times. Amazing charcuterie, very skillfully executed French classics. 9 Carrefour de l'Odéon, 75006
Vivant
Vivant is supposed to serve Italian cuisine. On the night we dined, the only Italian items on the menu were a plate of (wonderful, perfect) mozzarella and some freshly sliced prosciutto. As I said, the French like their food French. However you categorize it, this place is a treasure. I'm so jealous of this dining room, which is lined with hand-painted tiles featuring scenes of exotic birds. The tiles date back 80 years to the time when the space was a bird shop. The owner, Pierre Jancou, is likely to be the one and only front of house employee in the room. The food is simple and delicious and Pierre is a hero of the vin nature scene. 43 Rue des Petites Ecuries, 75010
Le Severo
New York steakhouses stick pretty much to a formula, so I was interested to see what a Parisian steak place would be. Le Severo is many things a New York steakhouse is not: small, intimate, casual and friendly. Steaks were charred to perfection and beautiful cheeses were served in silly portions (we gave half of ours to the guys next to us). The old-guy vibe led me to expect a conventional wine selection. Then our host opened up a lovely, herb– and beef-scented sans souffre Cornas from Thierry Allemand. We had a blast. I will be copying this restaurant in the nearest future. 8 Rue des Plantes, 75014
Septime
Finally, we thought, a restaurant that looks like the Parisian's dress. I would make a carbon copy of this dining room and transport it to Brooklyn. It has great light and manages to combine rough rustic, modern and industrial elements in a way that just feels perfect. Chef Bertrand Grébaut got his start in Michelin-starred restaurants, and the menu here very successfully combines traditional cuisine with ambitious fancy-new restaurant techniques. And the staff was really nice (not to be taken for granted in Paris).
Bistrot Paul Bert
Tell a Parisian that you loved Paul Bert and the inevitable reaction is something like, "Of course, that's everyone's favorite restaurant." It is just the archetype of an awesome bistro. If you could only have Cassoulet or Andouillette once in your life, this would be the place to do it. Old school bistro décor, a festive vibe and an epic selection of wines both nature and conventional. 18 Rue Paul Bert, 75011
---