How To Make Chinese Orange Anything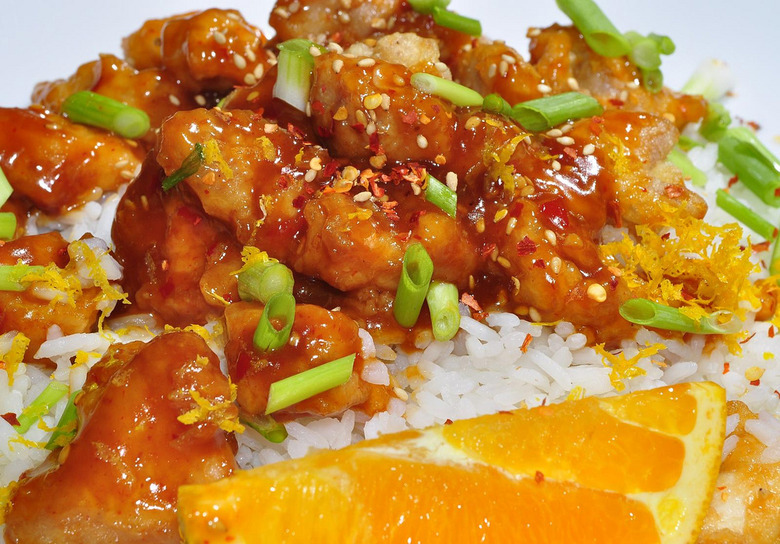 Photo: jeffreyw on Flickr
How do the Chinese do it? How is their food so reliably tasty? Without getting into any nitty-gritty details, of course. Who doesn't love lo mein? The answer is nobody. I find myself face-down in a huge bowl of Mandarin noodle soup on a weekly basis, and I'm not the only Jew in the city who feels that devotion.
Chinese food is special. I never sigh when I reach for the stack of menus on top of my fridge. But I'm not always in the market for something battered and deep-fried, no matter how badly I think I want it. So I frequently take my undying craving for Chinese food out of the takeout container and into the kitchen.
Now I'm not an expert on the intricacies of Hunan cuisine versus Sichuan (like this guy), and if you asked me to define what makes something Shanghai-style I'd probably tell you "by being a pretty solid knock-off" — and making a drum fill noise to nobody's amusement. But there's one Chinese, or at least Chinese-style, dish I've mastered. Orange anything. Yes, anything. Well, not anything. I wouldn't recommend Chinese oranging a tuna steak or a meatball. But chicken, tofu, shellfish, all manners of pork (belly especially), beef and soft, absorbant vegetables like eggplant take famously to this technique.
In a large bowl, toss large cubes or slices of your protein or vegetable with plenty of cornstarch to coat completely. The ingredient's natural moisture should be sufficient for the cornstarch to adhere. Quickly saute in vegetable oil over high heat until browned, then reduce heat, add enough orange juice to deglaze and simmer for a minute until the juice has thickened. Add the zest of an orange, a spoonful or two of orange marmalade, a splash of soy sauce, a drizzle of sesame oil and some chili flakes (if you're into the heat), and toss until well-combined. To finish, sprinkle with sliced scallions and sesame seeds and serve with rice. A well-trained 8-year-old could do it.
Best of all, like so many great dishes (lasagna, we're looking at you), Chinese orange anything tastes even better the next day, sans soggy microwaved batter syndrome. That's why it's sitting in the fridge at Food Republic Headquarters as we speak. ...probably shouldn't have said that.