Breville Personal Pie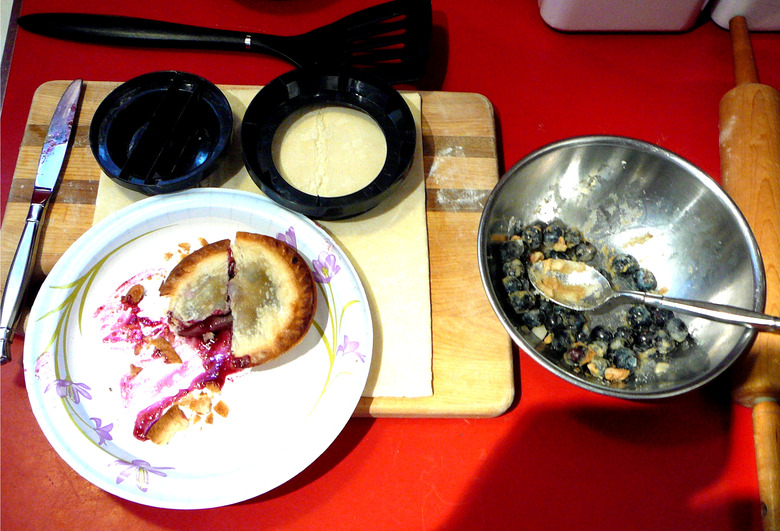 Pie is a very nostalgic food. Sweet, traditional ones remind me of holidays with pumpkin and apple pies closing the Thanksgiving feast. Savory ones recall Easter dinner, where my grandmother would serve fist-sized slices of her pizza rustica — a flakey pie filled with a combination of soppressata, hot sausage and five cheeses.
It's a wonderful thing, to be drawn back to fond memories through food, and I had that feeling while smelling the pastries I created using the Personal Pie from Breville. The 4 x 10 inch metal machine includes four 4-inch pie molds and works like a panini press for pies. Open up the machine, insert dough, add your filling, shut the lid, wait about 10 minutes and your pies will be ready to serve. That's fast if you think about it—most conventional pies take nearly an hour in the oven. I took it for a test drive.
Positive (+)
Button-less operation made the machine easy to master. The only visible icon is a hood light that changes from red to green when it reaches optimal temperature. I thought it would be tricky to mold such small the dough for four mini pies, but preparing the process proved simple: I rolled out some store-bought pie dough (both standard and puff pastry) and used the included plastic cutter to punch out properly sized pieces for the top and bottom of the shell.
I added my filling (the directions included some basic recipes – I went with their blueberry and then made some mini pot pies out of pre-browned ground beef, mashed potatoes and onions), and closed the lid. Ten minutes later I had four crispy, cooked-through pies. Important note: The puff pastry yielded the best presentation, though the standard crust baked equally as well.
And the little things shined, too: As I pressed the lid down, it crimped the edges to give it an authentic piecrust; each pie slipped out of its mold easily, with no break-apart or stuck bits.
Negative (-)
Though there is a warning on the cover, it bears repeating—the oven gets very hot. I burned my fingers a couple times and nearly melted a spatula while testing.
Verdict
I was skeptical, but the Personal Pie created warm, delicious pastries with almost no fuss. The finished products were crispy on the outside, warm in the middle and cooked quickly. The machine is also quite versatile—in addition to savory and sweet pies, it can be used to make large muffins if you simply place a scoopful of batter in the pie molds. Is the machine a necessity? No. Is it great at what it does? Yes. $80; breville.com
---
More products tested on Food Republic: