Guy's Fried Shrimp Po-Boy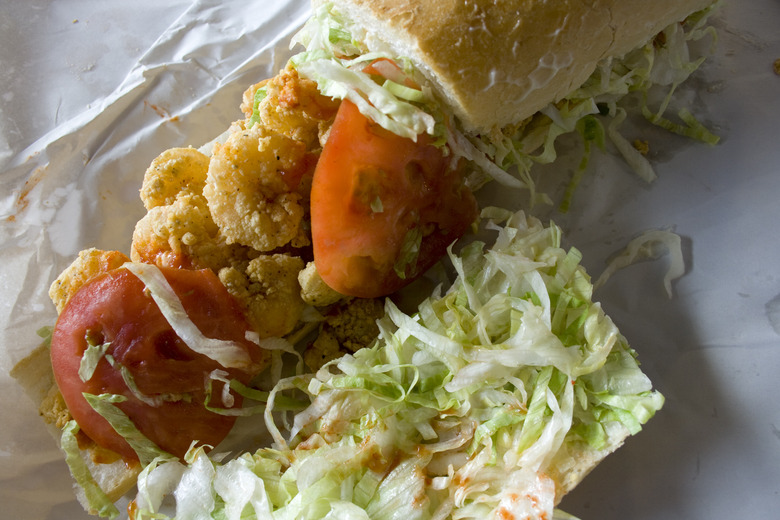 Guy's po-boy
Eating in New Orleans is a feat of endurance, and when time is tight you might have to get creative with traditional meal times. Gumbo for breakfast followed by a quick po-boy is perfectly acceptable when you only have one "meal" left before you have to catch a flight out of town — at least that's what I told myself on my recent trip to Creole country. For my last taste of New Orleans I went straight to Guy's Po-Boys, a no-frills corner restaurant on Magazine Street that serves up the classic New Orleans' French bread sub filled with fried seafood.
Legend has it that the sandwich's name was coined in 1929 during a streetcar strike when a local restaurant owner (and former streetcar conductor) served the strikers (a.ka. the "poor boys") free sandwiches. So basically, it was the most successful strike ever, at least as far as sandwich-lovers are concerned.
The key to ordering a successful po-boy is asking for it "dressed," which in the case of Guy's Po-Boys, means with tomato, lettuce, mayo, hot sauce and pickles. I personally advocate for fried seafood po-boys over the meat variety (fried shrimp or fried oysters in particular). When in doubt, order the 11-inch over the 6-inch. Guy's goes so far as to allow you to order a grilled shrimp or veggie po-boy, but let's be honest, if you're trying to make your po-boy healthy you clearly don't get what it's about at all.
Guy's Po-Boys
5259 Magazine Street, New Orleans, LA. 504.891.5025
---