Cider Houses Rule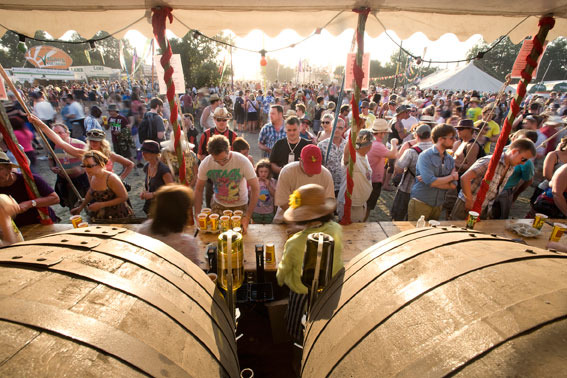 Before German beer became the beverage of choice in this country, hard cider was what people drank. You've heard of Johnny Appleseed, no? It wasn't all for pie. Not only were apples planted in large quantities across the land, but early British settlers used the fruit to make the fermented drink they knew from home.
Cider is still popular in the U.K., but here it's long disappeared from the taps of most bars. Craft cider makers around the country are pushing to bring it back with high-end still and sparkling releases made from all sorts of apples, including certain heirloom varieties that ol' Johnny himself may have planted.
Here are 10 recommended ciders from around the U.S.:
1. White Oak Black Cider, Oregon: Made from Kingston Black apples, this Southwestern England-style cider is unfiltered and unpasteurized. Fermented and aged in oak, it has a dry, earthy flavor.
2. Farnum Hill Extra Dry, New Hampshire: Made with such heirloom varieties as Pomme Grise, Hudson's Golden Gem and Hubbardston Nonesuch, this dry sparkling cider has no "dosage" (added sugar) whatsoever. What it does have is a pleasant funk and sharp tannins, reminiscent of Spanish sidra.
3. Redfield West County Cider, Massachusetts: This rosé cider gets its color from the aptly named red-fleshed Redfield apple it's made with. Tart and tannic, it has bright acidity and pairs wonderfully with a meal.
4. Levity Castle Hill Cider, Virginia: Aged and fermented in clay amphorae, like orange wine, this cider is full-bodied and complex. The fruit, Albemarle Pippin, shines through, but with funk and minerality.
5. Tieton Wild Washington Apple Cider, Washington: From the country's biggest apple-growing state comes this semi-dry cider. Tangy and mineral, it boasts lush fruit flavors and some sweetness.
6. Original Sin Newtown Pippin Hard Cider, New York: Crisp and refreshing, this new release is a textbook pairing for cheddar cheese, as well as fried foods and spicy fare. Light and dry, with zippy fruit flavors.
7. Ace Joker Dry Hard Cider, California: How hard must it be to make cider for a living in wine country? This producer doesn't seem to have too much trouble. Its dry, effervescent cider boasts crisp apple notes and a long finish.
8. Eve's Cidery Albee Hill, New York: This single-orchard cider made from English and French varieties boasts great acidity and minerality. It easily stands in for an aromatic white wine to go with fresh seafood, smoked meats and creamy cheeses.
9. Northern Spy Eden Ice Cider, Vermont: Once you see how well hard cider pairs with a meal, you'll want to see how ice cider works with dessert. In this case, zingy Northern Spy juice gets caramelized and flowery notes from spending time in French oak barrels.
10. Face Cachée de la Pomme, Quebec: Another ice cider... OK, so maybe it's not a great American one, but this stellar Canadian cider is available in the U.S. Sharp acidity and aromatics combine to make this one a winner with foie gras or stinky cheese.
---
There's more fall fun in our 33 Things To Look Forward To This Fall preview