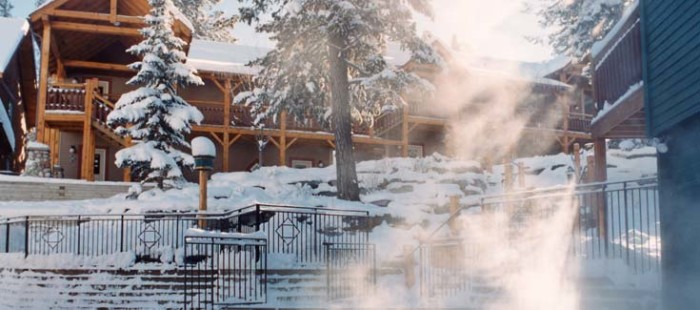 Arriving in the town of Banff, Alberta in the heart of the Canadian Rockies is nothing short of awe-inspiring. Whether you choose to drive or take the train (the closest airport is Calgary International), the majestic mountains, glaciers and crystal waters are there to greet you—as well as the town's resident wildlife like elk, mule deer, caribou, marmots and grizzly bear.
Banff is a magical place, with only 8,000 year-round residents. And while sleepy in many ways, it's still loaded with tons of activities, especially during fall and winter. From the Lake Louise Fall Festival to world renowned skiing and snowboarding (including heli-skiing for real adventurers), Banff is an outdoor lover's haven.
But it gets even better when you're talking food and drink. Visitors in this remote part of the world can sample a variety of locally sourced items and wild game-centric eats including elk carpaccio, venison, buffalo, Brome Lake Duck and British Columbia wild salmon while sipping locally sourced Alberta and Okanagan wines.
Here are five dining spots to hit between mogul runs:
1. Sleeping Buffalo Restaurant and Lounge
First off, this rustic-styled restaurant located in the cozy Buffalo Mountain Lodge gets the majority of its Rocky Mountain-style meats (buffalo, elk, caribou and locally sourced beef and pork) from their own game ranch. Under the direction of chef Linda Calabrese, the menu features a buffalo striploin accented with black garlic butter and served with a vegetable panzanella. Locally sourced cheeses, vegetables, fruits and herbs from their on-site garden accompany dishes like organic chicken fettuccine with Fairwinds Farm goat cheese and fresh dill as well as the Brome Lake duck breast served with a spring onion cake and blueberry-maple gastrique. Dishes are paired with an wines mined from an extensive list.
2. Maple Leaf Grille
The Maple Leaf Grille is located in downtown Banff amidst boutiques, sporting good stores and art galleries. The restaurant features a 600-bottle wine list that includes 100 Canadian offerings. The menu is decidedly Canadian Rockies, but with a bit of a seafood twist with fish and shellfish sourced from East to West coasts. British Columbia salmon is poached in maple syrup while a seafood tower consists of shrimp, mussels, oysters and calamari. A lunch order of fish tacos comes with deep fried zucchini spears and a lemon aioli for dipping.
3. Dining Aboard the Rocky Mountaineer
While not technically in Banff, this seasonal luxury rail tour (April through October) offers a memorable experience. There are over 45 different tours on offer from 2-day overnighters to longer rail tours up to 16 nights, but it's the overnight itinerary from Vancouver to Banff that is a solid choice for those most interested in dining. While there are three classes of service, the premium Goldleaf service is worth the upgrade. An early morning departure from Vancouver begins with a fresh orange juice toast and freshly baked berry scones as the train leaves the station. Lunch gets even better with Alberta pork tenderloin arriving atop a sweet onion confit and Sockeye salmon served with warm potato salad and fennel slaw.
4. Wild Flour Artisan Bakery Café
Another must-stop in downtown Banff is this fair-trade coffee shop and bakery. Tucked away on a side street, this is a locals post serving up incredible homemade breads, pastries, breakfast and lunch. All of Wild Flour's breads are created in-house using organic flours and range from a simple baguette to a beer rye bread made with a different local beer each week. For those with dietary concerns, there's plenty of vegan, gluten-free and raw options, and in keeping with the theme, all of their packaging is biodegradable, compostable and recycled.
5. The Banffshire Club at the Fairmont Banff Springs
One can't create a top five must-eats without including at least one fine dining spot, and The Banffshire Club, located in the famed historic Fairmont Banff Springs Hotel, fits this bill perfectly. Styled after a Scottish Baronial Castle, the hotel features wood paneling and plenty of tartan. Dishes are beautifully presented and clearly reflect culinary expertise. Dining is prix-fixe or can be ordered à la carte, with some individual dishes reaching the $60 range.
---
More city eating and drinking guides on Food Republic: