The Culinary World Has An Olympics Too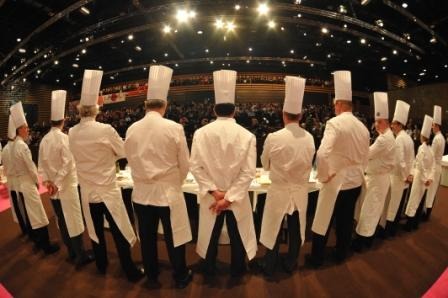 The Bocuse d'Or is a biennial cooking competition named after famous Lyonnais chef Paul Bocuse. It's considered both the Olympics and the Super Bowl of the culinary world — with over 24 countries competing in a two-day battle royale. Danish chef Rasmus Kofoed captained the winning team earlier this year — where The United States team finished a disappointing tenth.
This morning four chefs were named finalists to captain the American delegation in 2013. The finalists were chosen by Bocuse d'Or USA Foundation Board of Directors Thomas Keller, Daniel Boulud and Jerome Bocuse and the final team will be coached by Gavin Kaysen (Chef de Cusine at Café Boulud), himself a captain during the 2007 competition when the team finished fourteenth.
The four will compete at the National Competition at the CIA in Hyde Park, NY on January 28-29, 2012. They include:
Richard Rosendale, Executive Chef at The Greenbrier in White Sulphur Springs, WV
William Bradley, Chef Instructor at Le Cordon Bleu in Cambridge, MA
Danny Cerqueda, Executive Sous Chef at Carolina Country Club in Raleigh, NC
Jeffrey Lizotte Chef de Cuisine at Onzo in Hartford, CT
Kaysen checked in with us this morning to let us know what this all means.
What was your overall strategy in choosing these four finalists? It's not lost on me that the four are from kitchens outside the major restaurant cities: NYC, San Francisco, Los Angeles, Miami.
There was really no intention for our finalists to not be from a major city, it is just how it turned out this year. As always, we ask our culinary council, which is made of some of the best chefs across our country, to nominate different chefs who they think will be a great fit for our program. They also have many contacts and chefs who are extremely talented and don't live in a big city and will be able to perhaps dedicate more time to the training process.
How will the four prepare for the finals in January?
We will send them a file that will contain all of the information for the competition: the theme, the rules and the overall thought process of how we will score them. I am sure that they will all take a different approach to their training—and I will follow their progress to find useful information since I will be the one to help them train for Lyon. Some will take it on like a sport and as much as they will cook, they will also train physically and mentally — so they feel more prepared for the curveball, meeting all of the chefs and being in an environment where there are hundreds of screaming people and looking at your food and platters.
Will they be offered time to prepare at the legendary test kitchen space at the French Laundry?
We have an extensive training program that we have written for them and once we choose the chef, we will sit down with them and go over this process. I cannot fully disclose what our training program will be, but it will include some time at out training kitchen in Yountville.
Food Republic will continue to follow Bocuse D'Or preparations leading up to the next competition in 2013.