Meet Oakland's Auteur-Chef Russell Moore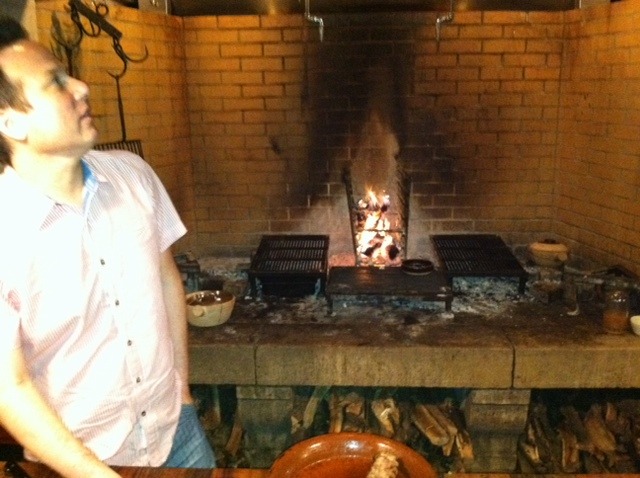 The Fireplace at Camino
If you want to get a handle on chef Russell Moore and his Oakland restaurant, Camino, it's best to first get acquainted with his fireplace. When he set out to open his debut restaurant three years ago, he found a former furniture store on a nondescript street with the space that would allow him to build the hearth of his dreams. He then had it constructed from scratch, by a local French stonemason whose family has been plying the trade since the Crusades. The fireplace is nine feet wide, and it allows Moore to place three grills among the burning coals from (sustainable) almond and cherry wood. The bigger the cooking space, the bigger the piece of animal that Moore can cook there; because, to him, it's all about cooking the meat on the bone.
Moore is the kind of chef who makes you want to coin a phrase, so let's slap one on him: he's an auteur chef. That means he doesn't follow formulas or trends, nor does he answer to a consortium of faceless investors. He does things his way. Like a film auteur, he's got director's cut.
In front of the huge fireplace, there's an equally massive bay laurel butcher block, which is used for a food preparation. The fact that it's front and center makes it occasional dinner theater, which can be off-putting to some patrons: Moore has been known to butcher whole flanks of an animal, whether it's pig or goat, while people are eating.
With merely about six appetizers and three entrees on a rotating menu, Camino isn't for everyone. And don't expect to ever, ever find pizza or pasta being served. Moore isn't looking to make things easy — for you or for him (yes, he's always there, working the line). What he does is make food that is fresh and that he can source within his principles. That's why he only serves fish that comes out of the ocean, caught by the guy he trusts. It's also why he does things like make his own vinegar and house honey-producing bee hives on the roof of the restaurant.
He's got a strong pedigree, having worked for 21 years at Alice Waters' world renowned Chez Panisse in nearby Berkeley. In fact, one of the younger staff at his alma mater whispered to us that Moore serves food just as good as they do. Indeed, everything we tried at Camino was spot-on: a whole sole fish, covered in herbs with chunks of cucumber and potato, made us feel like a conquering Visigoth. The oven-baked oysters with absinthe and celery-fennel salad had us babbling like Baudelaire. And, luckily, the subtle, homemade grilled fig leaf ice cream brought back our mellow for the drive back home.
So, in a way, going to Camino is like going to an arthouse cinema that's showing a double billing of Scorsese and Cassevetes pictures. You're in for a tour-de-force. And if you're not in the mood for that sort of thing, there are plenty of assembly-line productions at a Cineplex near you.