Scenes From Day 1 Of LA Food & Wine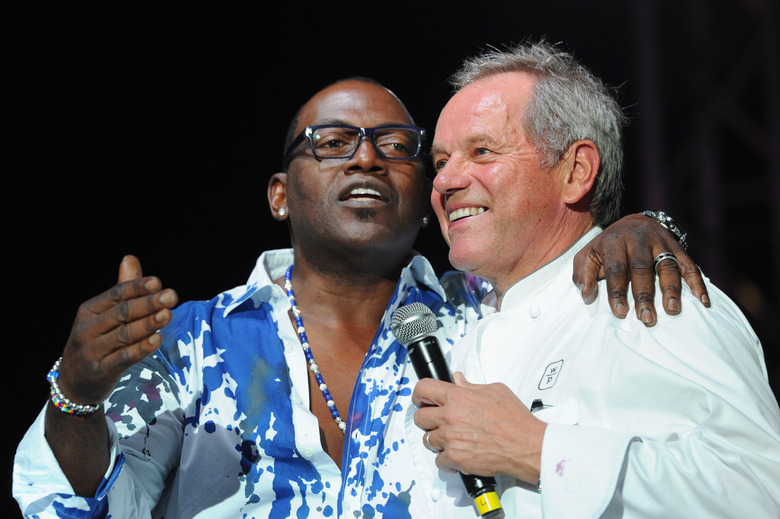 There are times in Los Angeles when you really feel like you're at the center of the entertainment universe. With red carpets everywhere, beautiful people running amok, and THE FIRST EVER live DJ set from Randy Jackson of American Idol fame, Thursday night was one of those times. Billed as "Celebrity Meets Celebrity Chef," the opening night of the First Annual Los Angeles Food & Wine Festival (Experience? Extravaganza? For some reason, they won't admit that it's a festival) showcased a ton of wineries, a broad cross-section of the nation's most accomplished chefs and incredibly loud, out-of-place pop music.
The whole thing felt like a scene from a movie called "Hollywood Food Festival," except the event took place at the L.A. LIVE Complex in Downtown L.A. and all of the extras were far too attractive to be at a food festival. But those extras weren't extras. They were actually people at a food festival, which led me to wonder where they came from. They were certainly much better dressed than people at most food festivals I've been to. I pondered the question for about two seconds before I realized I was missing out on the food.
LAFW is comprised of over 70 events, but when you start things off with a Red Carpet Premiere, you're setting the bar pretty high. Luckily, the food lived up to the hype. Proud Texan Tim Love was serving up hickory-braised farro and piquillo peppers stuffed with brisket. Each pepper was crowned with a miniature Texas flag and I personally vowed to never mess with Texas ever again. Love also mentioned that his new restaurant, Watershed, is opening up in Fort Worth next month and "it's the coolest thing [he's] done in 10 years." Chicago wunderkind and MasterChef judge Graham Elliot went whimsical with his foie gras lollipops rolled in Pop Rocks. I hope he goes the trick route on Halloween and gives them out to trick-or-treaters.
Elliot wasn't the only TV chef represented at the event. If you're a fan of Top Chef Masters, you would have gone nuts seeing chefs like Hubert Keller, Michael Cimarusti, John Sedlar, Susan Feniger and Mary Sue Milliken. At times, it felt like I was walking through a Quickfire Challenge (which was very obviously sponsored by Lexus).
While foie gras was present at several of the chefs' tables, the most non-traditional dish of the night came from L.A.'s Peruvian mastermind Ricardo Zarate of Picca and Mo-Chica. His alpaca and chorizo crostini with brie and aji amarillo was outstanding. It was my first experience with alpaca and, if all alpaca is this good, I hope it's not the last.
I think that everyone was probably expecting a higher caliber of celebrity to attend. Instead, they got Adrienne Maloof of Real Housewives of Beverly Hills fame, Fonzworth Bentley (P. Diddy's umbrella-toting former assistant), and a guy that kind of looked like Bruce Willis. At one point, I was trying to score a plate of Daniel Boulud's admirable charcuterie and ended up transfixed as I saw Boulud deep in conversation with Celebrity Rehab's Bai Ling. When they advertised the event as "Celebrity meets Celebrity Chef," I wonder if anyone anticipated which type of celebrity they were going to attract. Kathy Griffin would have gone nuts. Actually, I'm surprised I didn't see her. At least all the celebrity chefs were A-list.
Overall, the Red Carpet Premiere was a nice way to start the four-day event. While I still don't understand the appeal of Randy Jackson blaring Top 40 music (or doing anything for that matter), it was all part of the charm of L.A.'s flashiest food event. Next year, I hope they turn down the volume a little bit and let the food take the spotlight. Stay tuned for more coverage of Los Angeles Food & Wine on Food Republic all weekend long.