Roseland Apizza's Shrimp Florentine Pizza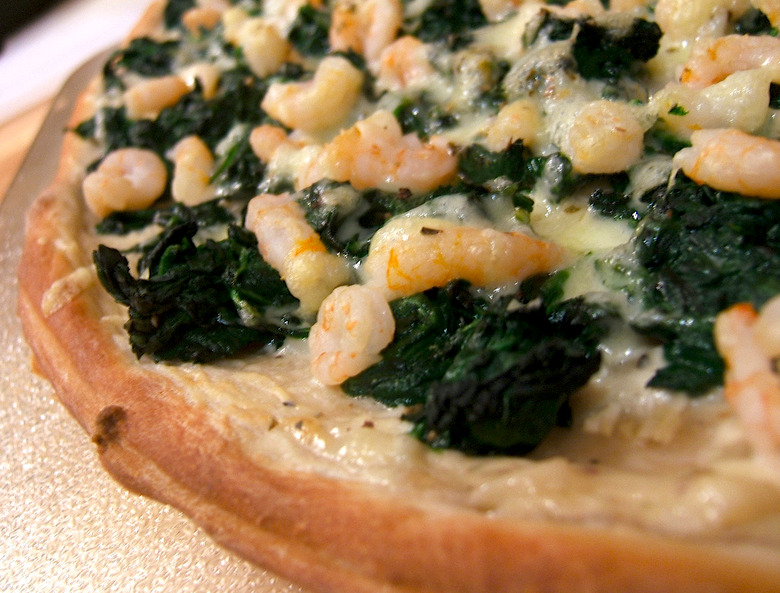 Photo: WordRidden on Flickr
We've already covered a couple famous Connecticut pizzas for Pizza of the Week — hot oil pizza from Colony Grill and the classic New Haven pizza from Sally's Apizza — and then we did some traveling to pizzas in Atlanta, Idaho, Maine and California. Now we return to Connecticut (my home state) for another slice. There's just something about pizza and Connecticut...excuse me, there's just something about apizza and Connecticut, "apizza" being an Italian-American term referring to a Neopolitan-style pizza which the New Haven area has made its own. Coined by Frank Pepe, of The Original Frank Pepe Pizzeria Napoletana, an apizza has a thin, charred crust (often fired in a brick oven) topped with oregano, tomato sauce and Pecorino Romano.
Roseland Apizza is its own apizzaland tucked away on a residential street in the suburbs of Derby, Connecticut. Were it not for the neon sign out front, you might mistake it for an ordinary house; however, the kitchen behind this humble façade puts out some of the most decadent pizzas you can find. Roseland specializes in seafood pizzas, with toppings like shrimp, white clams, tuna and even lobster. However, shrimp pizza is their real specialité.
The menu at Roseland offers four different shrimp pizzas — prosciutto, broccoli, spinach and simply oregano. All are made with a solidly Italian base of fresh plum tomatoes, garlic and mozzarella. The freshness, high quality and sheer volume of seafood on these pizzas does mean high prices. This may be the only place you'll find a pizza at Market Price, which at times can cost you upwards of $40. Nevertheless, it's worth it.
On a trip to Roseland years ago, a friend and I (and his parents — how else could we afford to eat there?) had the shrimp florentine pizza and I was certifiably impressed. The thin crust lay under heaps of spinach, mozzarella and gorgeous butterflied jumbo shrimp, which were tender, buttery and of an appropriately rose-pink hue. The pizza was oh-so-rich, and we could not finish it all. Perhaps this is the true meaning of la vie en rose.
---
More Pizzas from Food Republic: