Gregory Gourdet Takes A Departure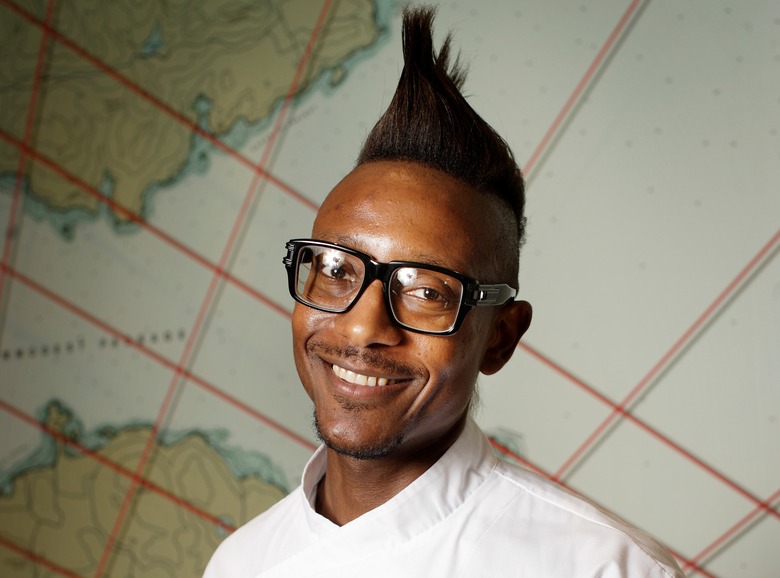 Chef Gregory Gourdet
Generally, when talking with a chef, you hear about the grueling hours working in the kitchen that leave almost no time for breathing. But chef Gregory Gourdet of Departure in Portland, OR manages to run marathons, be a hair model and participate in The Food Network's Extreme Chef show on top of his daily restaurant activities. Since moving from New York to Portland, Gourdet has jumped on the healthy eating bandwagon and has hosted Portland-friendly vegan and marathon-themed dinners. The only thing he hates about Portland? The rain. Better get used to it!
How did the idea for Departure come about?
I worked for Jean-Georges in New York for about six and a half years. I did an internship with him and then got hired right out of culinary school. Even though Jean-Georges is contemporary French-American there's always an underlying Asian part of it all and I was really drawn to those flavors, spices, the chilies, the herbs. That was my inspiration for today.
What's your cooking style?
I'm ingredient-focused and I try to keep things on the lighter and healthier end of things. Textures are really important to me, and balance. I always use lots of ginger, I always use lots of chilies and I always use lots of herbs. I think my food is a little feminine. Sometimes it gets complex in the kitchen but at the end of the day I want my diners to just see that it's pretty and understand that it's delicious.
What are your feelings about sriracha? It seems to be the Asian condiment of choice these days.
Sriracha's great! I just had a conversation with my friends last night — you can put it on anything. It's a standby condiment. My friends have sriracha tattoos and stuff like that. There's a Thai couple that has their own little sauce company called Thai and True, and they make a homemade version of sriracha. It's local and all preservative-free so I've switched over to that.
How would you describe your personal style?
I like a mix of high and vintage. Being from New York I definitely appreciate high fashion, but living somewhere like Portland, Oregon you have to get really sturdy, because I'm a bike commuter and it rains a lot, so the concept of style has changed a little bit. I hate rain coats, I hate putting on rain pants, but I bike around, and honestly it's going to rain for the next 10 months so you just accept it. That's just the style there.
Are you a vegan? Is that how Departure's vegan dinner came about?
No, but I cut dairy out of my diet a little bit ago and it's just been easier to eat a lot of vegan things. I don't usually eat a lot of red meat. Portland is a huge vegetable-focused, plant-based community, so I've tapped into that and befriended a lot of people in that community. The vegan dinner was a huge success.
And on top of everything you run marathons?
I'm about to run my seventh marathon on Sunday and I'm always trying to think of ways to connect with the community and to attract people to my restaurant based on things that I enjoy. So I offered the vegans something and I wanted to offer the runners something because it's part of my life as well.
I offered bright pasta dishes and some really simple salads that go easy on your digestive system two days before a race day. So we just did a two-day tasting menu for runners.
Is that what you usually eat before marathons?
Yeah, my diet has switched a lot. I'm on a Paleo diet right now, and you don't eat that many carbs. A lot of runners are not necessarily on that diet though. I think a lot of people believe that you still have to eat a lot of wheat-based carbs and stuff like that and it definitely works, but I've been trying to turn to different lifestyles and see what works for my body.
Where are you eating when you're not at Departure?
I really enjoy Pok Pok. The chef Andy Ricker just won a James Beard Award for Best Chef Northwest.
---