Top Five Greatest Melodramatic Sign-Offs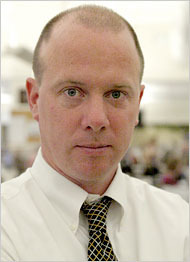 Sam Sifton
This week, New York Times food critic Sam Sifton went out with a bang. There had been much conjecture about what his last column might be, and, indeed, he did not disappoint with prose sometimes worthy of an eggplant; a four-star review, anointing Per Se as "the best restaurant in New York City."
Sifton, who is moving up to head the National desk at the paper, didn't hold back, writing that Per Se "represents the ideal of an American high-culture luxury restaurant." He made the case that a dish combining oysters with caviar makes "a fine argument for the metaphor of transubstantiation," and conjured notions of Nirvana.
His last column has all of the drama that, say, the one penned by his predecessor, Frank Bruni, did not. In 2009, Bruni opted for a practical, if not exactly profound, farewell, in which he listed a variety of tips and thoughts, to "correct lapses, attend to unfinished business, rummage through a cupboard of leftover advice and opine on an array of matters."
It was actually pretty handy advice, and certainly more impactful than, in 2003, when William Grimes went out with a whimper, writing a serviceable, two-star review of 'Cesca.
And so, to honor Sifton going all the way, as we're happy he did, we place it in the pantheon of the Top Five Greatest Sign-Offs of All Time. Andy Rooney's recent departure from 60 Minutes may have gotten more attention, but Sifton's made it on our list. Look for it.

Lou Gehrig, 1939
Yankee great Gehrig, who had been diagnosed with ALS, later named Lou Gehrig's Disease, had about as poignant a goodbye as one could imagine. Just a season ago, he was at top form. But a grand goodbye was organized for the future Hall-of-Famer. Calling his terminal illness a "bad break," Gehrig fought back the tears as he spoke to 60,000 fans in Yankee Stadium. "I consider myself the luckiest man on the face of the earth," he said. "I might have been given a bad break, but I've got an awful lot to live for." He died two years later.
Richard Nixon, 1974
Sometimes what makes a goodbye great is that it's sweet justice. Nixon, facing impeachment, made a farewell speech at the White House, getting a little weepy, like Johnny Carson (another kind-of-creepy goodbye). Nixon tries to come off strong, and he actually has some profound things to say about not hating those who hate you. (He was a Quaker, after all.) The guy certainly knew how to make a big exit, having done it more than 10 years before, when he lost the 1962 gubernatorial election in California, memorably sniping, "You don't have Nixon to kick around any more, because, gentlemen, this is my last press conference."
Sydney Carton in A Tale of Two Cities
Charles Dickens' tale of the French Revolution ends with one of the most famous lines in literary history: "It is a far, far better thing that I do, than I have ever done; it is a far, far better rest that I go to, than I have ever known." Those are the last thoughts of Carton, who gives up his life for his beloved.
Sam Sifton, October 11, 2011
Sifton's last column is a great farewell not only because it comes on no-holds-barred (he writes of a cod dish as "a pure distillation of autumn east of the Bourne Bridge, a Hopper painting made edible, seafood squared"), he also tells it like it is: "no restaurant in New York City does a better job than Per Se of making personal and revelatory the process of spending hundreds and hundreds of dollars on food and drink." We won't begrudge his grand curtain call—just like we won't envy his expense account.
Walter Cronkite, CBS Evening News (1981)
Always an exemplar of class, the man who was the messenger for two tumultuous decades in American history, admitted to "some sadness," but then he paid tribute to all of the little people. And then he went out with a quip, "Old anchormen, you see, don't fade away, they just keep coming back for more," before one last signature sign-off: "And that's the way it is."