Tailgate Toe-To-Toe: Colts Vs. Bengals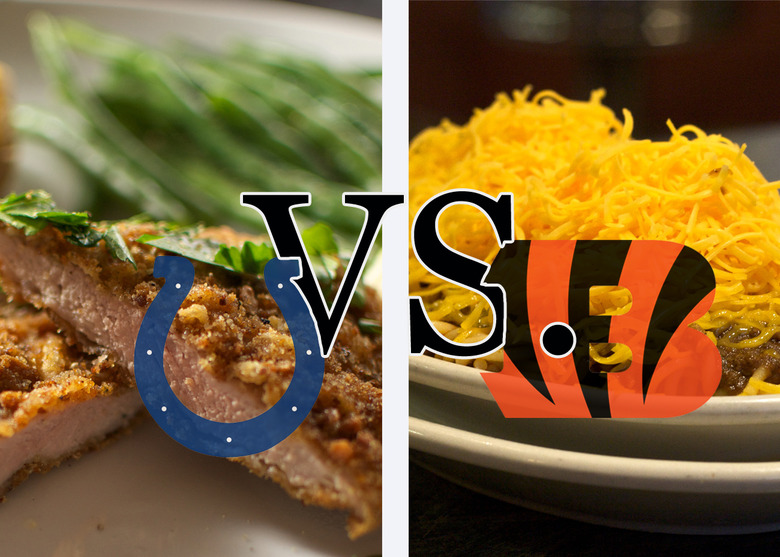 Tailgate Toe-To-Toepicks a weekly NFL game and analyzes the matchup—on the field and in the parking lot.
Pasta is versatile—it goes with marinara sauce, ragout, butter, truffles, soup broth...and in Cincinnati it goes with chili. It makes sense, no? Grandma's meat gravy can pass as a pseudo chili. So why not cut out the middle man? (Sorry, grandma.) Apparently the way to order is "Five Way Chili" (cue an annoying Subway jingle) which translates to chili, spaghetti, cheese, onions and beans. With this kind of logical innovation to the hearty, cold weather crock-pot creation, Cincy should be considered on the forefront of a future Nobel Prize.
Like many weekly tailgate parties, the Bengal Bomb Squad shapes their menu based on the opponent's hometown cuisine. Of course you could just give an ordinary dish a themed name: "Jerk Chicken" can easily become "_____ Fan Chicken." Then again, that kind of "inside the box" thinking might not win you the Taste of the Tailgate competition that's held every Sunday. Looking to black (and orange) out? Contribute to the tailgate's supply of Jagermeister and Captain Morgan's Tattoo Rum so that the rounds of Bengal Bombs don't end prematurely. Forget "Who Dat," the Bomb Squad boasts a "Who Dey" mentality at their "who's who" of any tiger-clad fan ready to party.
You'd expect Indianapolis fans to just eat Larry Bird – or some clever riff on a poultry dish thanks to the Hick from French Lick. Or perhaps some kind of city-wide eating challenge revolved around the number 500 to pay homage to the well-known car race. Alas, Indianapolis prides itself on breaded pork tenderloin. Like a schnitzel or cutlet, breaded pork tenderloin is most commonly put between two pieces of bread – traditionally hanging over the bun – and taken down like a sandwich. There's plenty of debate when it comes to which local eatery best represents the Indiana dish, however the most popular answer you hear is the unassuming Mug n Bun drive-in restaurant.
Colts fans are true blue—just check out some videos from the Colts Disciples. Head honcho, Goose Manning, may be a wee bit chubbier than the team's iconic number 18, but he does one hell of an impression of the signal caller. The built-to-be-a-lineman fan has Peyton's audible, mannerisms at the line of scrimmage and over analysis of the defense down to a tee. Fans gather in the parking lot to cheer on a motley offensive line and a quarterback with a questionable completion percentage. When he's not slinging footballs wildly into cars and on-lookers (rarely his intended target), Goose carries around his "Goose Juice," mysterious blue liquid harbored in a gas tank, to share with other tailgaters. When you're a man that size, I suppose you need gasoline-strength booze to get a buzz.
As I alluded to earlier, Carson Palmer and Peyton Manning haven't taken a snap this season. Despite the inexperience, Andy Dalton hasn't looked horrific on the field – except for his head full of ginger hair that blends right into the Bengals uniform. Cedric Benson gives the rookie some much-appreciated experience in the backfield, but it's the Cincy Defense that's given them a 3-2 record. A winning record. Allowing a stingy 191 passing yards and 88 rushing yards per game, the Leon Hall-led Bengals D would be tough for Manning to pick apart, let alone...
After a failed Kerry Collins experiment, Coach Caldwell has handed the reigns to third-year QB Curtis Painter. While Painter has provided fans with some flashes, it hasn't put any numbers in the W column. Familiar with the offense, Painter seems to be getting his wide outs back on track – Pierre Garcon pulled in two scores last week and Austin Collie finally made some kind of contribution. But the backfield has yet to find their featured running back. Joseph Addai seems to be slowing down and Delone Carter hasn't gotten into the swing of the pro game. There's only so much Dwight Freeney and Robert Mathis can do on the other side of the ball.
Painter has nicer flowing locks, but Dalton manages the game and allows his D to get them the win. GAME PICK: Bengals, 20 Colts, 14
Chin up, Bengals fans –chili with spaghetti is a no-brainer over a breaded pork tenderloin. Maybe I'm underestimating an unfamiliar opponent, but Ohio earns their stripes with a Tailgate Toe-to-Toe sweep. FOOD PICK: Chili with Spaghetti, 28 Breaded Pork Tenderloin 14
---
More football food and drink on Food Republic: