My Lolita Is A Hamburger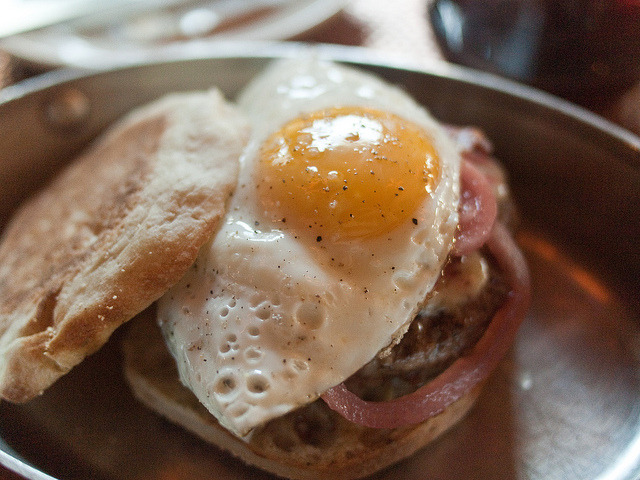 In Vladamir Nabokov's most famous novel, a middle-aged mope named Humbert Humbert becomes unhealthily obsessed with an under-aged girl named Dolores Haze. But you—and he—know her by a different name: Lolita, a nickname that still thrums across modern culture.
I'm also obsessed with my own Lolita. But instead of facing jail time if I slake my lust, abusing Lolita will only result in unseemly grease stains.
My Lolita is a hamburger. She's found in Cleveland, Ohio, a city I only visit every blue moon. That's much to the chagrin of my little sister, who calls home the historic Tremont neighborhood. "Why don't you ever come to Cleveland?" asked Becky, a die-hard Browns fan. (I'm a Cincinnati Bengals supporter, an equally fateful lot in life.)
"Because, uh..." I began, losing the thread of an excuse.
"You're coming home for Thanksgiving," she said. Last year, my wife, dog and I were driving back to Dayton, Ohio, to cook turkey in my parents' kitchen. "Well, stop in Cleveland for a few days. I'll take you to Lolita. They have one of the best burgers."
Lolita is a casual, Mediterranean-flavored bistro run by Iron Chef vet Michael Symon, a Cleveland native made good. During dinner service, you can dine on pinpoint pastas, pizzas and plenty of crispy pork belly, crunchy chicken livers and roasted bone marrow—comfort food mixed with the eclectic. But my favorite dish is only available during happy hour at the bar.
In that brief window, Lolita slings cut-rate cocktails, discounted wine and beer and a brief, marvelous menu of greasy nibbles. The rosemary-scented mac 'n' cheese is a gooey marvel, while the fried Brussels sprouts give the besmirched vegetable a decadently good name.
Then there's the namesake burger: For just $5, you receive a fat puck of nicely charred beef blanketed with aged cheddar, then topped with tissue-thin onion shavings, crisp bacon strips and a fried egg with a yolk as bright and yellow as the summer sun. Instead of a bun, it's cocooned in a toasted English muffin. This might be heresy to some, but the chewy muffin provides a terrific note of textural contrast, sopping up the runny yolk and the juicy torrent released with every pink, juicy bite.
"What do you think?" my sister asked, motioning to my empty plate.
"I think I'm coming back to Cleveland soon," I said.
---
More Burgers of the Week from Food Republic: