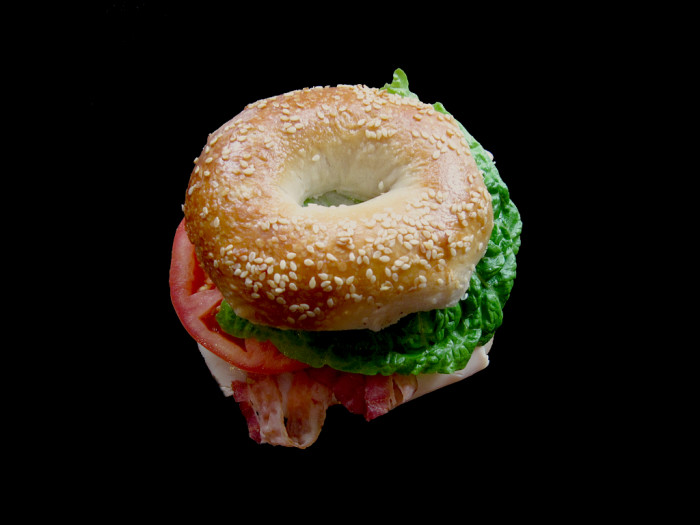 Sometimes the absolute best part of a sandwich is what's inside. Other times, the bread is really the highlight. And once in a while, when your level of hunger dictates that you can't choose between the two, there is the bagel sandwich.
There are some sandwiches that are suited toward bagels, uncomplicated classics such as the tuna melt or BLT. I happen to think a turkey club is fantastic on a bagel, as are any of our strategic variations on chicken salad. Once you get into the more elaborate sandwiches, the bagel's sturdy texture and pronounced flavor vies for the filling's attention and you end up with a very busy sandwich that will probably take more time to eat than you've got. Plus, you run the risk of both palate and jaw fatigue halfway through. File under: sandwich fail.
Toasted bagels are great in this capacity — they have more give to them than untoasted bagels, which can be dense and doughy (bless them). Different kinds of bagels also lend themselves to certain beloved combinations — roast beef and horseradish on an onion bagel, for instance. Or pastrami and swiss on a rye bagel. Or ham and cheese on a pumpernickel bagel.
Of course, the breakfast sandwich, which can and should be consumed for any meal of the day, practically begs for a bagel. The burger, eh, not so much. There are so many factors to consider. What makes you pause and wonder, "does this go in a bagel?" Why not peanut butter and its many paramours? Why egg salad? These are the questions I had every intention of going to go to grad school to answer.
Here's my secret to having your bagel and finishing it too: if you want the chewy, flavorful bagel exterior without taking on the whole doughy 500-calorie mass, scoop out the middle and stuff your filling in. That's a secret New York thing. Don't tell I told.