Wusthof Classic Vegetable Knife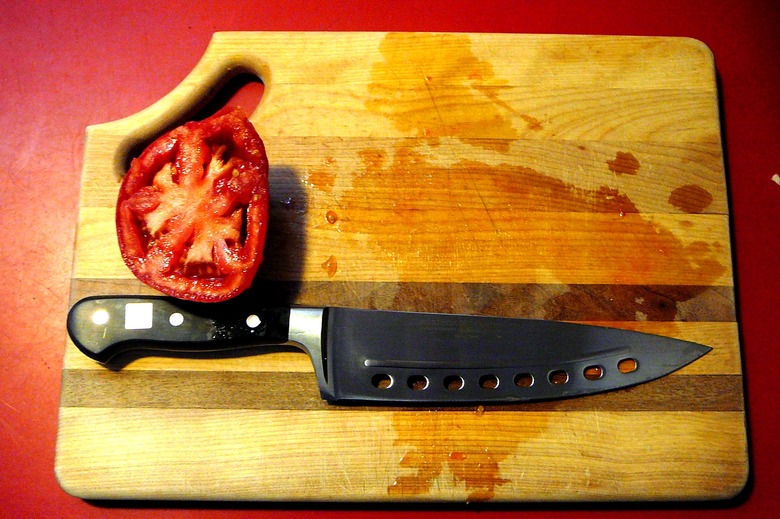 There's something hypnotic about watching a seasoned chef casually slice, dice, mince and chop ingredients with both speed and precision. It could have something to do with the rhythmic sound of a metal blade cutting through crisp produce and clicking against a cutting board's wood. Or it could be the fact that, even though I'm no stranger to the kitchen, my skill with a knife would make even the most wet-behind-the-apron line cook laugh until his hairnet fell off. I'm not wobbly with a blade, just slow, and always favored accuracy over acceleration. Which can make preparing a meal really drag along.
Still, though, when wielding the new Wusthof Classic Vegetable Knife, I found myself able to move faster. Perhaps it was the thrill of using a shiny new and perfectly sharpened blade. Or, perhaps, it was the fact that the 5.2-ounce knife is manufactured specifically to slice produce. It features a stain resistant high-carbon blade with eight strategically placed holes meant to reduce friction and make the task of cutting firmer fare like sweet potatoes and squash easier. There's also a ridged edge on the blade meant to prevent previously cut pieces of vegetables from sticking, as they do to most other knives. I took the famed German company's latest product out for a test drive to see if it is a cut above.
Positive (+)
Wusthof is known for their well-balanced, high quality knives, and their latest keeps this trend alive. A 4 ½-inch handle is strong and sturdy and the blade, milled from a single piece of high carbon, is wickedly sharp and had no trouble cutting through carrots and heirloom tomatoes (apparently the edge retains for 30 percent longer than others, thanks to one of Wusthof's newfangled proprietary technologies).
But sharp isn't what sets this knife apart—it's about those holes and that ridge, which work. Normally, when cutting potatoes, one quick slice doesn't do it and you're forced to wiggle the blade a bit — which results in a cut that's more crooked than Chris Christie's bed frame. This knife slices through scores of Yukon gold potatoes without sticking once, a fact I'll attribute to those eight friction-reducing holes. And that raised edge did prevent produce from sticking to the side. Normally, juicier vegetables have a tendency to stick to the blade, causing you to tap it down, but every bit of tomato, apple, squash or cucumber I cut refused to cling to the blade.
Negative (-)
Those holes in the blade, however much friction they reduce, do make it tricky to complete one essential task—to transfer recently-chopped goods from board to bowl. When dicing, say, an onion, a chef will normally scrape the chopped bits onto the edge of the knife, but the Wusthof's holes made this normal maneuver tricky and kind of frustrating.
Bottom Line:
The Wusthof Classic Vegetable Knife is a high quality instrument for the home chef looking to add a specialty knife to his growing collection. It's not changing the way chefs chop, but it does make the monotonous task of prepping vegetables a bit easier. And, if you so desire, the knife can also be used to ready chicken, trim the fat off beef, or really any of the normal tasks of a standard, hole-less chef's knife. And for $150, it should. Available at Williams-sonoma.com
---
More products tested on Food Republic: