Lobster ME's Lobster Grilled Cheese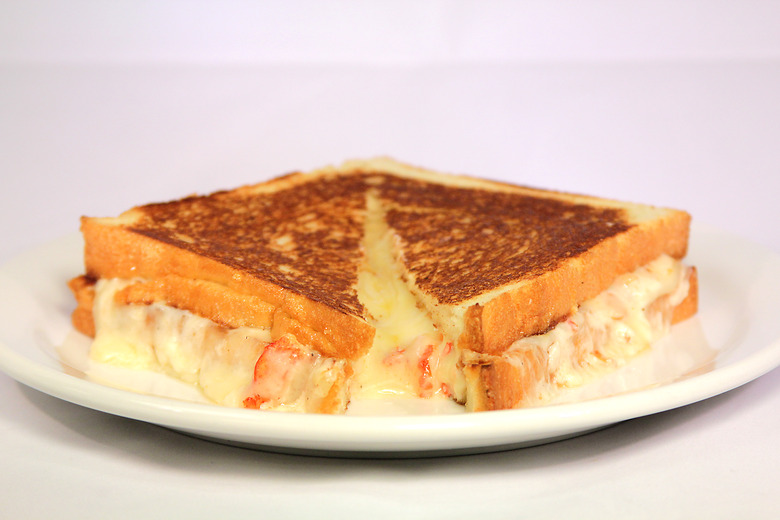 Photo: Lobster ME
Grilled cheese sandwiches have been enjoying their moment of fame for a little longer than 15 minutes. From grilled cheese trucks to National Grilled Cheese Month, they remain the stars and showstoppers of some of our favorite eateries. This gooey sandwich craze is probably making you nostalgic for your favorite after-school snack that no one can make like mom (although this one comes pretty darn close.) This is why we decided to showcase a whole new side of the classic grilled cheese.
This grilled cheese is not just a matter of mixing up cheeses, or adding a smear of mostarda. Here, ladies and gentlemen, a brand-new player is introduced to the game. The lobster. Yes, two of your favorite ingredients joined forces to create this mouth-watering masterpiece. And it wasn't easy.
Lobster ME, the Vegas-based masterminds behind this beauty, say "The secret to our Lobster Grilled Cheese was in making sure that the complex and strong flavors don't overpower each other. Lobster, Gruyère, brie and cream cheese are all headliner tastes; it took us 31 variations before we landed on our perfect cheese and lobster détente. To guarantee that flavor, we toast both sides of the bread before we make the sandwich, resulting in a crisp and textured bite."
Every tantalizing mouthful is packed with buttery lobster and melty cheese. Although the combination has been showcased before in increasingly familiar dishes like lobster mac and cheese, the crunch from the bread giving way to the hot melted interior will have you coming back for seconds.
Lobster ME
3663 Las Vegas Boulevard South, Suite 435 (in the Miracle Mile shops at Planet Hollywood)
More Sandwiches of the Week at Food Republic: