Eat Like A Rich Roman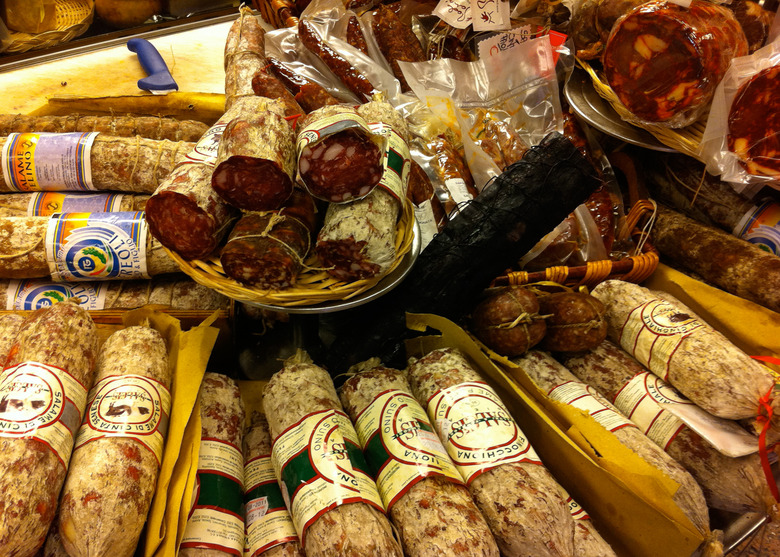 Normally when you go to Rome, you're at the whim of a thousand guidebooks, blogs and concierges who all promise to send you to authentic Roman restaurants for the best food you've ever had. Unfortunately, the same advice gets passed on to roughly seven million tourists every single day and you wind up paying 50 Euros for a plate of rigatoni amatriciana next to the Spanish Steps. So what's the solution? If you're me, you get yourself invited to check out the city with the family that owns the oldest distillery in Rome.
The Pallinis are the First Family of Italian spirits, makers of America's favorite premium limoncello—and incredible hosts to boot. They showed me Rome the way Rome is made to be experienced: with no expense spared. If you've got deep pockets (and if you don't, we have a more affordable guide to eating in Rome by neighborhood), here's the way to do Rome right:
Hidden in plain sight just steps from the Pantheon, this quaint restaurant is all about the seafood and with fish this fresh, you'll be shocked that you can't hear the Mediterranean from the front door. It may set you back half the cost of a plane ticket to Rome, but the gran carpaccio is a can't-miss platter of incredible gifts from the Italian sea: glistening salmon, ruby red tuna, and the best langoustines you've ever had in your life. By the time you get to the sorbet, you'll swear you were on a date with the Little Mermaid. Via delle Coppelle 5, Rome, Italy 00186; +39 06 6879389
2. Panella
Two words that aren't Italian at all: Brioche strudel. But when you combine them at a high-end Italian bakery, they become as Italian as cannoli. This shop is a nightmare for the gluten-free, but it's a sparkling oasis for pastry and bread lovers. Ornate desserts, fresh salads, and a rotating list of extremely enticing breads make this the best spot in town for breakfast or lunch. Our tour guide said that the bread here was as good as gold – it's as expensive, too. Via Merulana 54, Rome, Italy 00185; +39 06 4872435
3. Brunello Lounge & Restaurant
Sure it's in a five-star hotel, but this intimate bar (we didn't try the restaurant) serves up stylish drinks at prices that make even New Yorkers blush. The price becomes a lot more justified, however, when a complimentary plate of antipasti shows up with your drink. These aren't beer nuts we're talking about, either. Mini sandwiches and assorted fried bites make your drink go down a lot smoother. Confuse your sense of geography with a tropical island Planter's Punch or go classic with a Negroni. Either way, you'll be living la dolce vita on a street known as the epicenter of high-class Roman living. Via Veneto 72, Rome, Italy 00187; +39 06 421111
4. Volpetti
If somebody were to ask me what I thought heaven looked like, I would say Volpetti. It's a small shop, but what it lacks in size, it more than makes up for in selection. Prosciutto hangs from the ceiling, glass cases are filled to capacity with incredible cheeses, and the clerks are more than happy to cut you a sliver of that four-year-old parmigiano reggiano to taste.
Cured meats, cheeses, dried pasta, olive oil, chocolate – you name it, they've got it. If U.S. Customs didn't threaten to confiscate all my bounty, I would have left my clothes in Rome and filled my suitcase with guanciale and mozzarella. Via Marmorata 47, Rome, Italy 00153; +39 06 5742352
5. Aroma
Forget about the food. When you're eating on the terrace on the top floor of the Hotel Palazzo Manfredi, you're paying for one thing and one thing only: a spectacular view of the Colosseum. The chef cooks Italian classics with a modern twist like the mezzi rigatoni with eggplant, a play on a traditional pasta alla norma elevated to new heights with perfectly cooked rigatoni and smoked ricotta scented with basil.
It's just as good as it sounds. To be honest, they could serve spicy garbage fritters and I still would have loved it based on that view alone. If you're going to propose to a wealthy Italian countess, I suggest you do it here. Even if she says no, you can still enjoy the view. Via Labicana 125, Rome, Italy 00184; +39 06 77591380
---