Tequila Made To Ruin You For All Others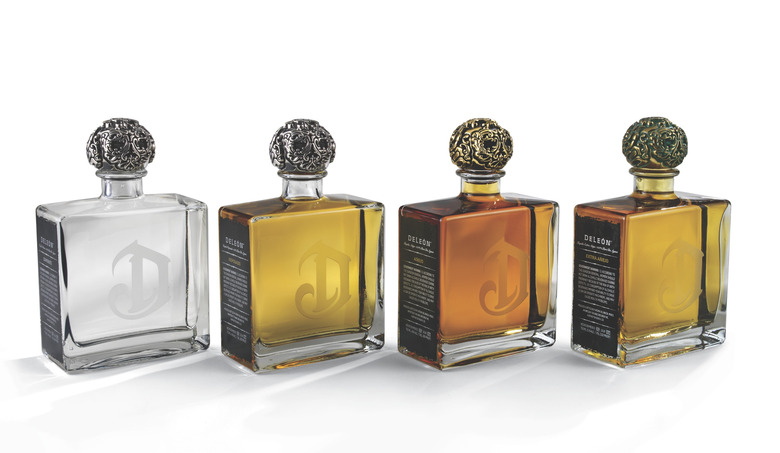 If you're the sort of tequila purist who is known to bemoan the growing American domination of the industry, you may be wary of Tequila DeLeón. Like Herradura, which was bought several years ago by spirits and wine giant Brown-Forman, and El Tesoro, bought more recently by Beam Global, DeLeón was once a small, independently owned Mexican brand.
At the time, unless you traveled the dusty roads of the tequila-producing region of Jalisco, you were unlikely ever to have tasted it. It's now sold in the U.S. for a handsome $125 a bottle (for the Diamante). A cask-strength extra añejo, DeLeón 51, was just released for $250 a pop.
To hear CEO Brent Hocking describe his acquisition of DeLeón can sound sinister at first. A serious oenophile with a background in finance and dreams of making the next great Burgundy, he eventually settled on the idea of producing tequila instead. He traveled around the state of Jalisco, visiting nearly 100 distilleries in search of the perfect brand. He found it in a small operation called Mexican Private Reserve. The only problem? The proud patriarch of the family-owned company refused to sell and had no wish to see his tequila released in the U.S.
Hocking thought the story would end there. Then, one day, he ran into the DJ from his wedding. The two got to chatting about tequila and it turned out that the young man, who was from Mexico, came from a tequila-producing family. You'll never guess which one.
That's right: Hocking was talking to the Mexican Private Reserve heir. And this is where the story veers into movie-plot territory. The young man revealed that his grandfather had just died and Hocking's dream of taking over the small tequila brand was immediately revived. It took some time and convincing, but the family eventually agreed to sell Hocking the rights to their product. He changed the name to DeLeón and the rest, as they say, is history.
So, does Hocking, the son of a preacher raised in Compton, California, have any misgivings about buying the brand despite an old man's dying wish that it remain in the family?
"He had been approached many times...and by big players [to sell] and didn't trust anybody and felt that no one had anything in mind but to buy it and change it," says Hocking. "Now, granted, I did rebrand and repackage, but I also paid tribute to the grandfather. I wanted to honor the family and what they created. I didn't stray from that, under any circumstances."
The recipe to which Hocking insisted on staying true is one that makes use of zero additives, unlike most other tequila produced. Of the nearly 150 distilleries in Mexico producing several thousand tequilas, Hocking claims to be the only one not adding caramel or glycerin or any of the other permitted additives to his tequila. At least, back in 2007, when he first staked his claim in DeLeón, this was the case. Of course, the Mexican family that owned the brand before Hocking surely wasn't aging the tequila in 100-year-old French oak barrels, as is done now. Nor were they finishing it in Sauternes casks.
"I'm a realist," says Hocking. "I didn't want to release a product if I didn't think it was the best on the market. DeLeón is the only two-time, back-to-back winner of the World Beverage Competition, the biggest one in the world, held in Geneva. Our Diamante, I'd put it up against anything right now."
In other words, Hocking believes his tequila will ruin you for every other tequila once you taste it. He cites the town in which it's made, called Purísima del Rincón, which translates as "purest of the corner." The agave used is grown at one of the highest altitudes in the region, more than 7,500 feet above sea level.
And yet, he proudly touts the use of modern autoclaves versus the traditional hornos to cook the agave, which many purists consider heresy. He also believes that the use of tahona, the ancient pressing tool a few cult tequila producers still employ, is "a thing of the past." When he talks about his tequila, it's obvious that Hocking is not only the president; he's also a member of the DeLeón fan club.
"I'll just use one of the benchmark tequilas, Don Julio, for instance. Nothing against them, but if you drank a glass of this, then drank a glass of theirs, I bet you couldn't drink Don Julio ever again," says Hocking. "It's like, you're better off not knowing about Château Margaux. You really are. Because once your palate goes that way, you're like 'oh, man.'"
---
Read more about tequila on Food Republic: