Pizza Booze Cruise, Ahoy!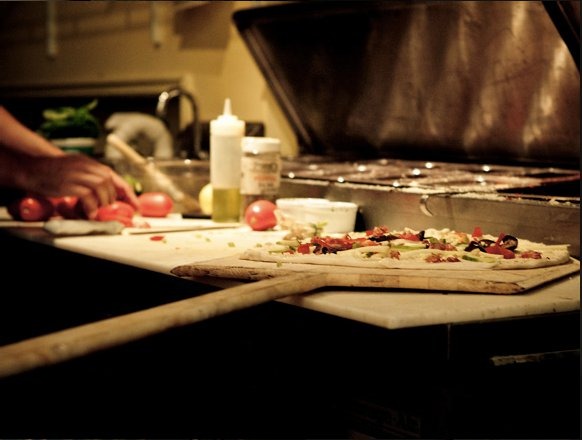 It took my wife and me more than five years to get married. It only took me a few minutes to decide what food I wanted to serve at our rehearsal dinner.
"We're getting Otto," I told her on a hot July night, a few weeks before we got married in Portland, Maine. "Uh, what's Otto?" she asked.
"The best pizza in Portland!" I told her, displaying the kind of lick-my-face enthusiasm she expects from our Corgi mutt, Sammy.
"Whatever you want," she said, a phrase that'll serve us well in the ensuing decades.
See, we were not having the standard-issue rehearsal dinner. Instead of renting out a restaurant's banquet room and subsisting on lukewarm bread, rawhide-tough steak and mashed potatoes drowned in oily butter, we were taking a cruise—sort of. Every night, Portland's commuter-ferry system, Casco Bay Lines, runs a sunset cruise that stops at a number of the craggy islands dotting the Atlantic coast. The watery ride lasts three hours and costs less than $15 a person. More crucially, food and drinks are allowed on board.
"Pizza booze cruise, ahoy!" I shouted, grabbing a menu for Otto and placing my order.
Now, great pizza in Maine may seem like an oxymoron. Get too far away from New York and pies tend to simultaneously thicken and soften. Not so at Otto. Here, owners Mike Keon and Anthony Allen worship at the cult of the thin crust, turning out pies with an airy crispness I've come to expect in my Brooklyn hometown.
Yet a crackly crust is just one iota of Otto's tale. It's the toppings that elevate the pizzeria into the culinary stratosphere. Sure, you can crown your pie with workaday pepperoni or sausage married to Vidalia onions, but those are toppings for the unadventurous soul. Otto, which has two locations in Portland and one in Boston, rewards the culinary voyager who ventures onto a limb and orders pies anointed with ricotta, cranberries and butternut squash, or perhaps pulled pork partnered with sweet, tropical mango. Nonetheless, there's one pie I like best: scallions and nibs of bacon snuggled up beside fluffy potatoes mashed with butter and whole milk.
The trio of toppings sounds like pizza heresy, like a Beethoven symphony played on a fifth-grader's recorder. But as we cruised that night, armed with some 35 pies for 90-odd revelers, the taters showed their true colors. "Good god that's good," a guest said, shoveling a slice into his mouth with haste.
I smiled, experiencing a joy that lingered well into the next afternoon when I joined together two tiny words that, like Otto's pizza, would change my life forever.
---
More Pizzas of the Week from Food Republic: