Going Veggie In Paris At Bob's Kitchen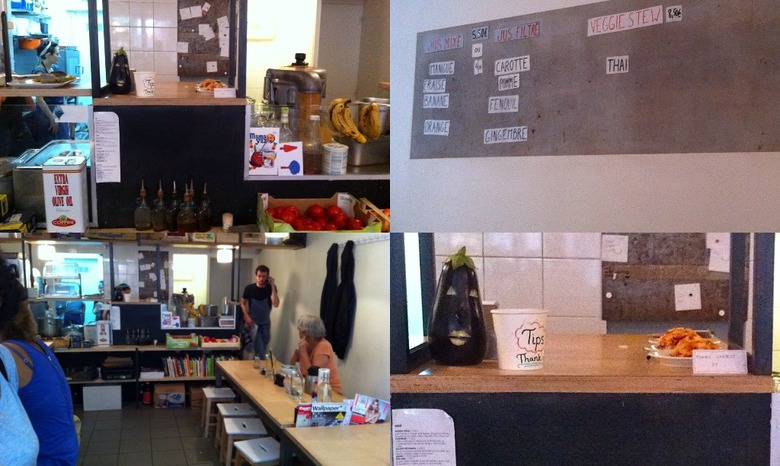 Come lunchtime, should you follow a stylish Parisian down a quiet street intersecting the wholesale junk district of the city's third arrondissement , it's likely you will wind up at Bob's Kitchen, a vegetarian eatery offering a rotating menu of daily specials, fresh juices and smoothies, and healthy-leaning snacks and desserts.
As a larger outpost to
Bob's Juice Bar
in the nearby tenth arrondissement, owner Marc Grossman (aka "Bob") opened Bob's Kitchen two years ago with a full menu to supplement the popular but limited offerings of juices and smoothies, and healthy baked goods. At the newer location, daily specials typically include a stew or stir-fry, a nori roll, a salad, one or two sandwich choices, as well as hearty desserts like apple pie or whole-grain cookies. On Sundays, you can order pancakes.
Besides being a veggie haven in a city that loves its boeuf and foie gras, Bob's Kitchen marks a major shift in Parisian dining. Though most visitors from this side of the Atlantic would hardly bat an eye at the scene inside—a simple, mostly white interior with an open kitchen and two long wooden communal tables—it's one that deviates wildly from the city's typical format of round cafe tables facing out onto the street, or dining rooms with linen-covered tables.
The place is packed during most lunch hours, and while a mix of languages and accents and can be overheard across the tables—expats and students—the clientele is overwhelmingly French. Here you'll find the same chic bobos and hipster-types who eat at the similarly themed Rose Bakery, but who don't mind ordering at the counter, the tight seating and having to reach over one's neighbor for the shared water carafes and the centrally placed cutlery.
During a recent lunch stop, Joel Forrester, a pianist and composer from New York, polished off his hummus bagel sandwich and strode over to the piano discreetly occupying a space near the entrance. He played old standards and classic tunes for the next two hours. Besides the ever-changing menu, it's these kind of unexpected, shared experiences that keep the locals keep coming back for more.