5 Great Places To Eat And Drink In Denver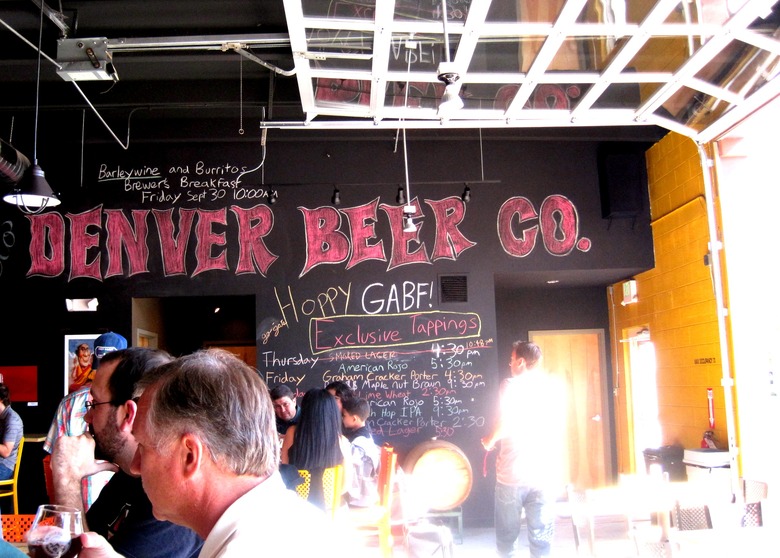 For decades, Denver was a staunch steak-and-potatoes town. Plates were stacked with beef as high as the Rocky Mountains looming in the distance. But in recent years, the Mile High City has rewritten its culinary script. First came the craft breweries, filling tap lines with tasty, locally made ales and lagers.
Now, the dining scene is evolving too, with marvelous Mexican restaurants mixing with madcap eateries that think nothing of substituting pad Thai noodles with pig ears. Here are five great places to grub and grog in Denver.
Stroll up the stairs of this historic brick building and you'll enter a realm dedicated to craft beer and the sort of genre-bending bar food devised during a stoner's most creative moments. Start with bruléed bone marrow and those pad Thai­–style pig ears before moving onto one of four hand-cut poutines—duck gravy, Wisconsin cheddar curds, duck egg and foie gras anyone? Complete your feast with a double-decker chicken schnitzel sandwich, a sampler of hand-cranked sausages (beef short rib kielbasa, boudin noir, Bavarian veal weisswurst) and a pint of a Colorado-made ale such as Odell IPA.
2. Freshcraft
Reared in Iowa, the trio of Forgy brothers decided to decamp to Denver to set up this quirky comfort-food restaurant with a focus on quality craft beer. The rotating brew list skews heavily to local breweries such as Oskar Blues and Bristol, while the grub includes mole-seasoned portobello tacos, spicy homemade pickles sliced and deep-fried, and regional delicacies like the thin tombstone of crunchy, cheese-crusted pork tenderloin that's popular in, naturally, Iowa.
Onetime repo man Jim Pittenger has no affection for the dirty-water hot dog. At his street carts and sit-down restaurant, Pittenger sizzles up some of the most exotic sausages ever to slide into between fluffy buns. There's smoky Alaskan reindeer, elk blended with jalapeño cheddar, wild boar with apricots and cranberry, duck dosed with cilantro and the animal kingdom–defying rattlesnake–pheasant hybrid. For an extra buck, you can get these wild-game tube meats topped with caramelized onions and cream cheese dispensed from a caulking gun.
Denver has no shortage of fine craft breweries, from Great Divide to Wynkoop to Breckenridge and the wild-yeast vanguards at Crooked Stave. But what I loved best was this seasonally influenced brewery that opened in August in a spacious ex–auto garage. On sunny days—are there really any other kind in Denver?—the choice seats are found on the patio, where I happily wiled away the hours with pints of robust and chocolaty Graham Cracker Porter, sweetly potent barleywine and a delicate and citrusy Fresh Hop IPA made with locally plucked hops. Keep an eye on Denver Beer in the years to come.
5. Santiago's
After a day spent neck-deep in Denver Beer Co.'s ales, my stomach roiled like a ship on the stormy north Atlantic. I needed sustenance: fast, cheap, hot and freighted with eggs. "Let's go to Santiago's," my friend Aaron commanded. Since 1990, this chain of Denver-area Mexican restaurants has specialized in low-cost, high-quality, freshly made burritos, enchiladas and tacos, everything swaddled in a flame-throwing green chile sauce.
But most of all, customers come for the breakfast burritos. Early in the a.m., there's a conga line of customers queuing up for flour tortillas wrapped around eggs, potatoes and the chef's choice of meat, including ham, sausage and chorizo. It's the tastiest two-dollar hangover cure in town.
---
Where else do you like to eat and drink in Denver? Spill it in the comments.