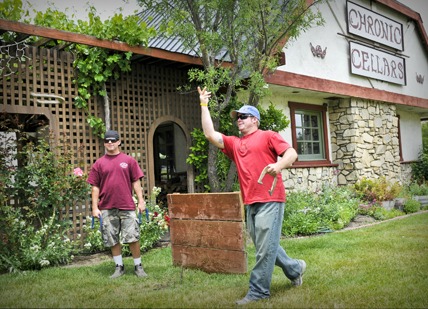 The old winemaking fantasy used to involve stomping grapes à la I Love Lucy in some large, rustic wooden vessel. Of course, if you've ever been to a winery, you know that most of them have replaced their oak vats with stainless steel ones – and that pretty much no one stomps grapes anymore. And when they do, things often go wrong. There are few winemakers, however, who still use (or have recently implemented) an ancient method of making wine: fermenting grape juice in cement tanks.
Cement tanks have been used in winemaking since ancient Rome, having been widely abandoned for oak barrels and stainless steel tanks. But for the winemakers who opt for concrete, nothing else can compare. Stainless steel tanks are usually temperature-controlled, which makes the winemaking process somewhat automated. In traditional wooden vats, there's a risk of imparting unwanted flavors to the wine. Proponents of cement say it offers the best of both worlds. On the one hand, it provides a slow, naturally porous environment in which the wine can develop. On the other hand, it can result in cleaner, purer flavors.
One such proponent is Josh Beckett, of Chronic Cellars, located on California's Central Coast. He says he started experimenting with cement several years ago because he wanted to try something different and wanted to find out for himself if there was any legitimacy to going concrete. (Given that the winery is named for a far more illicit intoxicant than wine, it comes as little surprise that the Chronic team was up for embarking on such an adventure.)
"The theory is that you're going to get this great minerality from concrete, which is not the case," says the winemaker. "The benefits I found are, first, the temperature retention of the concrete. You get this nice, gradual fermentation. The thermal mass of the concrete doesn't let the yeasts get aggressive and the fermentation to get super hot."
In winespeak, this means that the process of the juice turning to wine is slower, because the fermentation takes place at a lower temperature. This is a good thing, as it means you can avoid overcooked flavors in the wine and retain a vibrancy of the fruit. Not every winemaker has time for a slow fermentation, however. Beckett admits that cement isn't for everyone.
"The second benefit is that the concrete acts like a barrel with its porousness," says Beckett. "It breathes. For aging, it's phenomenal."
At Chronic Cellars, wines are not only fermented in cement, but also aged in it. It may seem counterintuitive, considering that aging in oak barrels has long been used to impart certain flavors to the wine, usually notes of spice and vanilla. But the true point of aging is to allow a wine to evolve. Aging in a barrel allows a wine to develop new characteristics that come about from slow and gentle contact with the air through the wood's natural pores. Cement is also porous, but doesn't impart additional flavors associated with wood, so you can end up with a truer expression of the fruit.
The perception of cement has changed over time. Winemakers in regions that have long been associated with it, like Greece or Spain, often distance themselves from the practice. They're proud to have made the switch to stainless steel, a far more modern piece of equipment. But for a certain type of winemaker, one that believes that "less is more" and that the industry hasn't necessarily benefited from all the technological advances it has seen, concrete has a certain charm.
"I've aged the same wine in concrete and stainless steel," says Beckett. "The difference is night and day. Stainless steel is great and all, but it's a perfect environment. Unless you introduce micro-oxygenation, the wine can't evolve. Without oxygen, it can't breathe and change."
5 Cement-Fermented Wines to Try Now
1. Syrocco 2008: Made in Morocco by the Côtes-du-Rhône winemaker Alain Graillot, this 100% Syrah is finished in oak barrels, adding a note of spice to the ripe fruit.
2. Domaine Gramenon "Poignée de Raisins" 2010: It translates as "fist of grapes"—and aptly so. This fresh Côtes-du-Rhône Grenache is made naturally and bottled unfiltered.
3. Italo Pietrantonj Montepulciano d'Abruzzo 2008: Earthy and rustic yet floral, it's aged for two years in large oak vats, mellowing out the big flavors of the grape.
4. Telmo Rodriguez Lanzaga Rioja 2009: This blend of Tempranillo, Garnacha and Graciano is full of forest fruits and sound tannins.
5. Chronic Cellars Stone Fox 2010: This aromatic blend of Viognier, Marsanne, Grenache Blanc and Roussane is described as "bright" by Beckett himself. In cement, he says, the fruit comes alive.
---
More wine coverage on Food Republic: