Tailgate Toe-To-Toe: Jets Vs. Patriots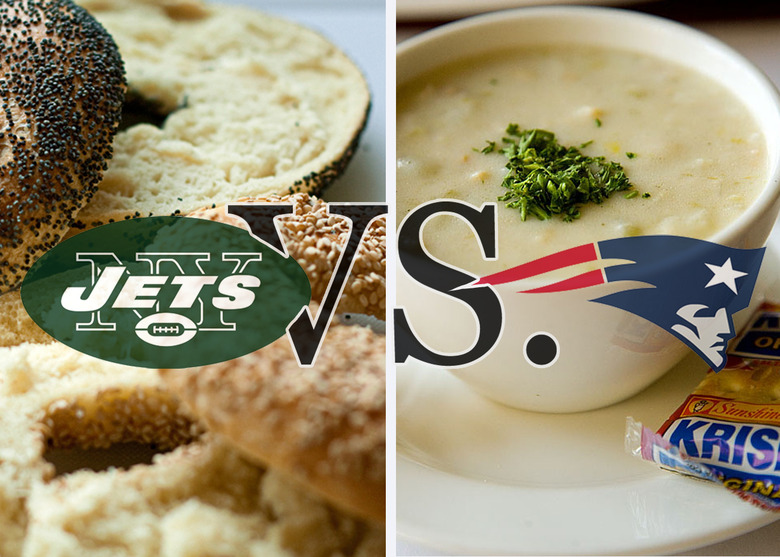 Elton John sang about them. Well them and Benny. But on Sunday, the New York Jets will be solo, front and center at Gillette Stadium. The gaping absence of Benny can be represented by the empty holes found in the middle of bagels, prepared to perfection thanks to good old New York tap water—I would know as I went a painfully long time in Los Angeles without anything even resembling a real bagel. They're just dough, magically crispy on the outside and fluffy on the inside, so good that Jay-Z should've dropped a rhyme about them in "Empire State of Mind."
At Tailgate Joe's pre-game party, you won't find bagels but an award-winning hot dog that would make Coney Island proud. The Sanchize, a Nathan's hot dog with a slab of thick cut bacon, guacamole, sour cream, pickled red onions and cojita cheese, took 2nd place in The Great Hot Dog Cookoff back in 2010. The Mexican-themed frankfurter is aptly named for pretty-boy starting quarterback, Mark Sanchez. After kicking cancer's ass in 1995, Tailgate Joe aggressively campaigns for charities such as the Leukemia & Lymphoma Society. He parties, and donates, hard – and I'm all for that.
It might be tough for Ace Ventura to remember, but New England clam chowder is the white, not the red. If the only soup named after an entire region of the United States didn't represent the Patriots in this week's matchup, Mr. Campbell would come after me with a can opener and cut my throat in my sleep. People of Maine, New Hampshire, Vermont, Rhode Island, Massachusetts and Connecticut like their clam chowder hot and their accents slightly hilarious. When your gridiron gang creates a pseudo-dynasty, winning 3 Super Bowls since 2001 (and dropping an epic one), you brave the sub-zero temperatures to support your squad prior to kickoff.
Patriots fans unite at the All Pro Celebrity Tailgate Party – kind of a football version of Disney's Chef Mickey's Restaurant Character Breakfast Buffet. The 16-year tradition provides a pre- and post-game meal and the panache of Foxboro alumni, including Fred Smerlas and Steve DeOssie, letting loose with fans. Although the food changes by the week, you can expect to see some shucking going on at a raw oyster bar courtesy of American Mussel Harvesters, to start and a variety of meat at carving stations as part of the real meal.
Tom Brady has been absolutely ridiculous this season. Actually, I should stop because he looked somewhat human vs. Oakland throwing for a mere 226 yards and 2 TDs. Luckily, he doesn't have to carry the entire load and can rely on the sure-handed Wes Welker and a tight-end tandem of Rob Gronkowski and Aaron Hernandez. Now, their defense hasn't been lights out, but an aerial attack averaging just under 385 yards per game has propelled them to a division leading 3-1 record.
The 2nd ranked Jets pass defense will have their hands full. They did hold the Ravens to 267 yards and saw some life from linebacker David Harris's interception returned for a touchdown. Still, the Jets had hoped for Sanchez to take significant steps forward as the team's leader, especially since their running game has found itself in the basement of the league, racking up just over 71 yards per outing.
I'm tempted to buy into some of what Rex Ryan is selling and pick New York in the upset, but with a banged-up offensive line and scientific limitations in cloning Darrelle Revis and Bart Scott, I just think the Jets are outmatched. Brady and company take this one in a tight contest. GAME PICK: New England 35, Jets 27
As for the food, there are few things I enjoy more on a hungover Sunday morning than a bagel with a schmear. And as Seinfeld nemesis Kenny Bania will tell you: "Soup is not a meal." FOOD PICK: Bagels 42, Clam Chowder 10
---
More football food and drink on Food Republic: