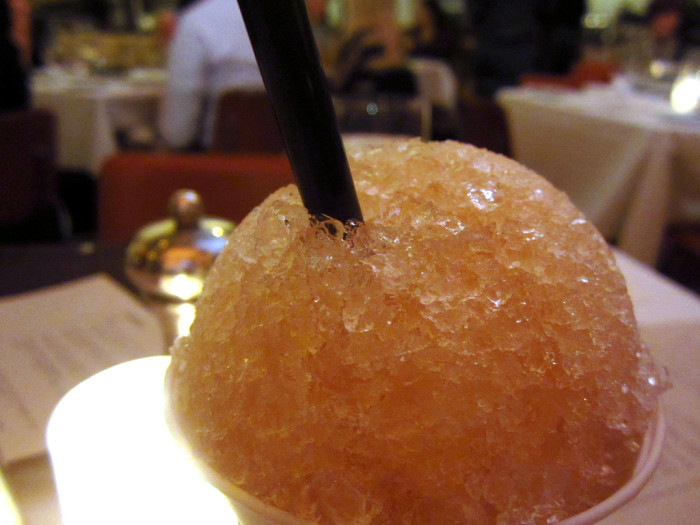 Last month I was fortunate enough to travel down to Louisville, Kentucky for a couple days of serious bourbon sipping, hanging with the big boys and drinking my way through the region's brown spirits bounty.
One of my favorite stops was at Proof on Main at the 21c Museum Hotel. Ninety minutes off the flight I was at the restaurant's bar, digging into chef Michael Paley's hearty seasonal fare: pears with local prosciutto and blue cheese and a warm ricotta spread were favorites. The chef's cooking—flavorful, thoughtful, supremely filling—paired perfectly with his list of local distillates. I enjoyed a number during that lunch, including the hard-to-find Willet Rye.
But what really caught my eye was a curiously named cocktail: The Van Winkle 15 Snow Cone. Wait, what? I returned the next night to find out what it was all about. As advertised, the "drink" arrives as a mound of shaved ice scooped into a standard-issue paper cone. The cocktail's creator, head bartender Jennifer Pittman, bought a snow cone machine specifically for the drink. "There's no faking it," she says from the restaurant, where she's worked for the past five years.
And like any shaved-ice drink, the syrup is key. For this, she takes bottles of 107-proof Pappy Van Winkle 15-year and cooks it down with sugar. She experimented for weeks to perfect the recipe, which she simmers with sugar until it takes on a honey-like consistency. She then reconstitutes an amount of Pappy for a more liquefied end result. And what a result—it's a sweet and boozy homage to childhood summers in the backyard. The bourbon, already spicy and carameled from years in oak, goes one step further as a concentrated syrup. Pittman applies the proper amount too—the ice melt hardly waters down the drink.
The snow cone is a seasonal special at the restaurant and available through the end of the month—returning around Derby time in May.
---
Drinking better with Food Republic: