Talkin' Turkey With Marc Forgione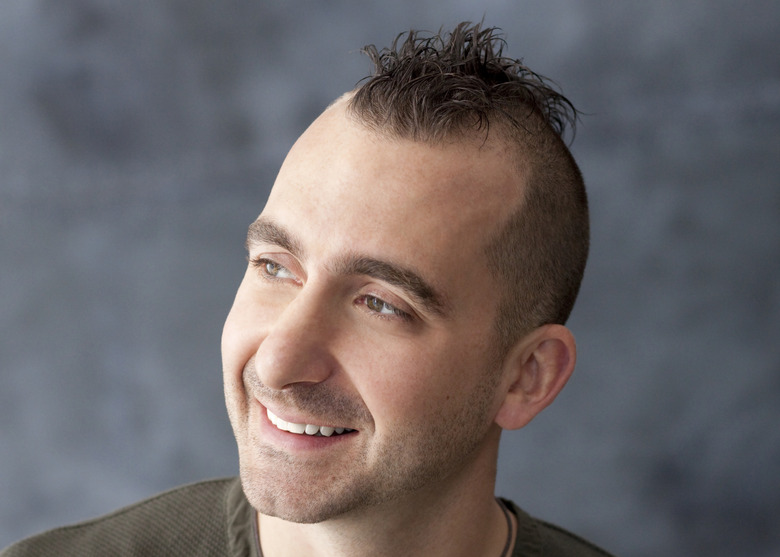 Marc Forgione
Yesterday was a ridiculously picturesque fall day in New York City, the kind of day when you just feel like something great is about to happen. For Marc Forgione, it did. The 32-year-old reigning Iron Chef received the news yesterday that for the third year running, his eponymous restaurant in Tribeca had received a coveted Michelin star, placing it amongst the élite restaurants in the city.
When I walked through the doors to meet Forgione, he was addressing his staff at one of the big tables in the main dining room of the farmhouse-like space. I took a seat in the bar, within sight (and smell) of trays full of freshly baked dinner rolls. A few stray staffers buzzed around, getting ready for dinner service, and the famously mohawked chef talked up the night's menu before reflecting on the importance of getting the Michelin nod three years in a row. A hearty round of applause followed, and it was back to work.
A few minutes later, Forgione, dressed in his signature black chef coat, greeted me. We were there to talk turkey. Specifically, his contribution to the Macy's Culinary Council's new cookbook, out this week, including a delicious-sounding turkey leg roulade recipe. (For more coverage on The Macy's Culinary Council Thanksgiving and Holiday Cookbook visit Woman's Day). But I couldn't resist asking about all that has happened to Forgione over the past few years — the surprising Iron Chef victory, the Michelin stars, his ascension up the culinary ranks near his father Larry Forgione, considered the godfather of New American cooking and a huge influence on seasonal-driven preparation.
"I don't know if you know the history of this place," Forgione tells me, looking me dead in the eye. "But we were days away from shutting down. The economy was bad. I was starting to think that maybe I'd made a wrong decision — that what I was cooking was right for me maybe but it wasn't right for the customers."
He persevered, however, winning Michelin and New York Times stars (two in the latter case), and then of course surging to national fame in 2010 as The Next Iron Chef. Ever since, he has become recognizable enough to get stopped in the streets — recently he was spotted by fans while traveling in Wisconsin, he says; "It's taken a little getting used to." And Restaurant Marc Forgione, which was almost one of the myriad failed restaurants in NYC's dining scene in a given year, went from neighborhood destination serving fresh-ingredient-driven cooking to dining destination, a spot that has become a must-visit on any foodie traveler's itinerary.
While the fame and accolades would drive some chefs to rapidly expand and spend less time in the kitchen, Forgione says he revels in defying trends. While he is thankful for the status that Iron Chef and other TV appearances afford him, he decries the fact that celebrity chefdom is something that young cooks now aspire to. "I guarantee you this—" he says, growing from intense to almost scary, "nobody who is a celebrity chef today started their career out by saying they wanted to be a celebrity chef. I worked behind the stove for years. Morimoto worked behind the hot stove for years."
Lightening up a bit, he notes, "Customers walk into the restaurant and are shocked to see me in the kitchen cooking. I like it that way."
Besides his devotion to cooking and to his restaurant, Forgione loves getting involved with the community. For the Macy's cookbook, he joins Emeril Lagasse, Cat Cora, Marcus Samuelsson, Rick Bayless and others in providing clever spins on Thanksgiving classics. He developed his turkey leg roulade recipe because as a kid, he hated to have to fight over the succulent dark meat from one of the two turkey legs; the roulade, he says, offers everyone at the table a taste.
And he's stepping up his charitable work as well, spearheading a November 15 event at Restaurant Marc Forgione to benefit Feeding America, the foremost hunger-relief organization in the U.S. The minimum $1,000-a-head benefit, "Coast To Coast Wine and Dine," features five Michelin-starred chefs from NYC (himself and pals Missy Robbins from A Voce, Justin Bogle from Gilt, Brad Farmerie from Public and John Fraser of Dovetail) cooking dishes to pair with five of the most well-known Napa winemakers. It's a promising matchup of East Coast chefs and West Coast wines, but the main goal is to help feed the hungry.
Doing an event for charity comes naturally, Forgione says. "I am always giving. I cook for people." Amen.