Star Chefs New York Rising Stars 2011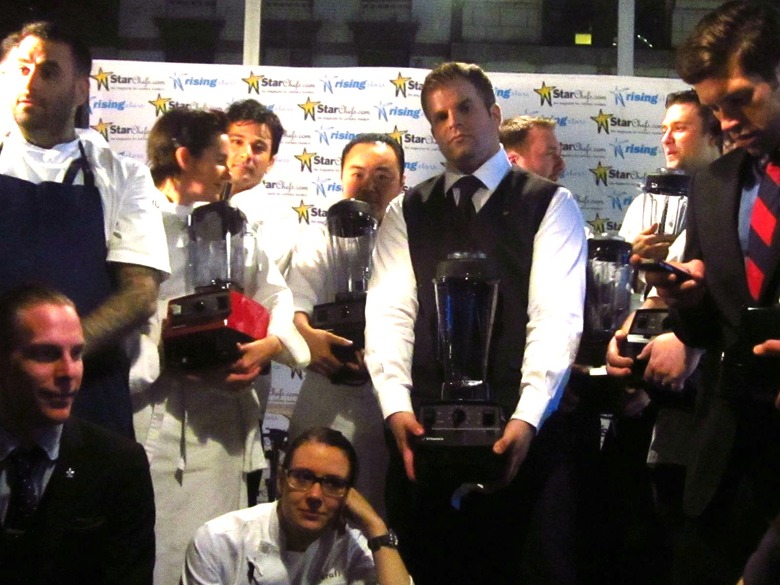 Each year, culinary trade organization Star Chefs likes to look in their giant crystal ball to predict the next big chefs and bartenders in various cities around the country. We give them much credit for their picks, which unlike other organizations designates truly under-exposed restaurant pros. You've likely never heard of Shawn Gawle (of Corton) or Hooni Kim (of Danji), who were two of the 15 recipients honored at a splashy walk-around tasting at Bar Basque. Rember those names.
Each chef served a signature dish, which ranged from airy gnocchi (Hilary Sterling of A Voce) to beef carpaccio with burrata (Jesse Schenker of Recette). My favorite dish was Adam Schop's beautifully prepared Peruvian chicken—incredibly moist and sided with papas fritas. You can catch him at Nuela in the Flatiron District.
Congrats to all the recipients.
Hillary Sterling | A Voce
Jesse Schenker | Recette
Aaron Chambers | Boulud Sud
Vikas Khanna | Junoon
Hooni Kim | Danji
Adam Schop | Nuela
Jenny McCoy | Craft
Shawn Gawle | Corton
Shuna Lydon | Peels
John Mooney | Bell Book & Candle
Joe Campanale | Dell'Anima, L'Artusi, and Anfora
Nick Adams Robinson | Tocqueville
Seju Yang | Brushstroke
Leo Robitschek | Eleven Madison Park
Damon Boelte | Prime Meats