Family Recipe's Global Home Cooking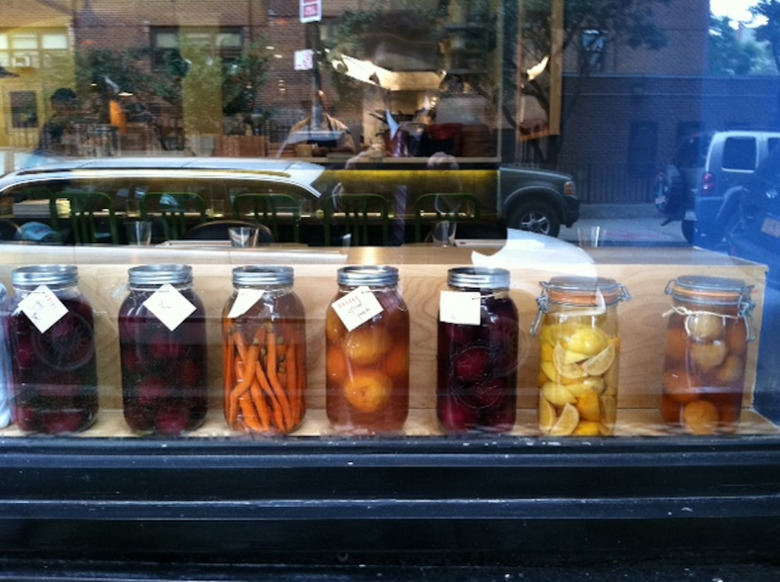 There's a new restaurant in New York City, just south of Houston, called Family Recipe, a name that might conjure thoughts of home cooking — mom's meatloaf, cousin Sal's lasagna, or your dad's special BBQ sauce. But chef-owner Akiko Thurnauer is going for something a little less specific than that, and a lot more eclectic.
The dishes she's serving at Family Recipe are not so much handed down through generations, but a reflection of her family's "obsession" with food. On the restaurant's third night, the Japanese waitress appropriately whispers in heavily-accented English that the food is "new American cuisine...with a Japanese accent."
On the menu there's a wildly diverse selection: cauliflower with capers, a delicate green salad with figs, Taiwanese Bao, walnut-infused tofu, arctic char wrapped in a wood crust. Thurnauer, who used to work at Nobu, created Family Recipe with a very personal vision. "It's not exactly what I learned [from my parents,]" she says. "It's more the concept of how I grew up." It must have been quite a childhood.
Her mother and father loved to entertain friends, and while her mother would make esoteric dishes from scratch, her father would often bring "weird" foods home from business trips. (Her father's family crest is the logo for the restaurant.) Thurnauer tips a hat to her own family by naming two dishes after her daughters—"Today's Alice's Pickles," "Chloe's Apple Cider Baked Doughnut"—and an entrée for her husband; "Daddy's Favorite Brick Chicken with XO Sauce."
Thurnauer says the XO sauce reminds her of growing up, but it's not like her mother passed it down to her. In fact, she adds of the Family Recipe menu: "I don't think this is like anyone's family food."
So, in truth, the name Family Recipe may be a bit of a non sequitur, like one of those random T-shirts ("Donkey Kong like baseball on Christmas!") that Japanese teens sometimes wear. It's more of a riff, a reference to the universally familiar comforts that different foods can bring us.
Take, for example, the most spectacular dish I've eaten in a long, long time. After my wife and I had ordered, the waitress sidled up to our table and asked us if we wanted the new uni dish that had just come in fresh, after they had completed the menu.
I didn't understand how she described it, but my wife, who's from Hawaii, is a lifelong uni fan, so we ordered it.
When the dish arrived, it was a shock: a bibimbap-like crock pot filled with rice, heaping with uni, roe and seaweed. It looked like something a wizard might eat in a Miyazaki movie. The dish, accompanied by a light dressing that we poured on ourselves, was, as my wife stuttered happily, "insane" and "crazy," meaning it was totally innovative and delicious. The uni was fresh, its pungent salinity perfectly complemented by the other elements. It turned something exquisite into comfort food, without diminishing it.
What could be more foreign to me, a white guy from New York who grew up eating my German mother's lamb chops and potato pancakes, than this Japanese-Korean mashup? And yet, it tasted like home.
More from Tom Roston on Food Republic: