NYC Chefs Dance The Sambal In Malaysia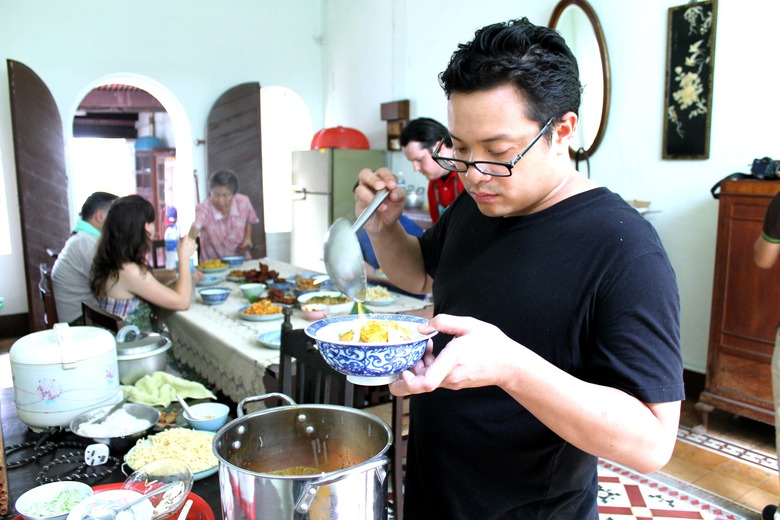 To understand the vibrant melting pot that is Malaysian cuisine, you should look no further than a map of Southeast Asia (scroll down). The country — divided into two landmasses (Peninsular Malaysia and Malaysian Borneo) — sits relatively equidistant between India and China. So over time, both cultures played a role in shaping the Malay culinary heritage. Throw in a healthy dose of Portuguese and British colonialism, and you've got one very interesting eating scene.
Statistically, the current ethnic breakdown is roughly 50% Malay, 25% Chinese and 7% Indian. But, really, when you're eating in one of Malaysia's major cities like Penang or Kuala Lumpur, you will find a wide range cooking like fiery chili crabs, airy roti cani used to scoop up complex vegetable curries, wok-fired sizzling noodles and the national condiment sambal—a blend of chili, calamansi lime juice and shrimp paste.
This past summer, four well-known NYC chefs traveled to the country to eat, cook, learn and basically go Bourdain on that ass. We reached out to find out about their favorite dishes — and some recipes (just click on the links) so you can bring the flavor home.
The trip was organized by Malaysia Kitchen for the World, an arm of the country's trade organization.
---
Shaun Hergatt | Owner and Executive Chef at SHO Shaun Hergatt

Roti Canai "Roti canai would be my ideal breakfast of choice if I ever lived in Malaysia. There is nothing better than fresh bread handmade to order with a sophisticated vegetable curry on the side. So simple, filling and you can just eat with your hands."

Purple Mangosteen "Purple mangosteen has the most delicious flavor and unique texture. It's one of my favorite fruits and reminds me of a custard apple with a sweet lychee taste. When it's ripe, you can just scoop out the fibrous flesh with a spoon."

Char Kway Teow "There is no better memory than being in Penang at 10 p.m. and watching a man standing out in a fire pit making these delicious flat rice noodles. The smoky flavor profile and bits of char as a result of high cooking temp in the open fire gave it a beautiful sophistication."
---
Matt Lambert | Chef de Cuisine at Public

Pork Loh Bak "Love at first bite. The different flavors and textures kept unraveling. The Loh Bak recipe I made the week after returning [from the trip] is similar to one we tried in Penang. I liked the rusticity of the city and the food. It's tough to say that Loh Bak was my favorite as I thought everything we ate in Malaysia was amazing, but I had no idea what was hidden inside the yuba skin and was super excited when it was indeed a wondrous form of pork sausage."

Sambal Belachan "Sambal belachan is something I experienced in all three cities — Penang, Melaka and Kuala Lumpur — with the southern style being thicker and hotter (a quality I enjoyed. In Melaka I was reduced to tears, literally, with a raw form of sambal. I had pounded out the ingredients by hand in a cooking class and missed a bird's eye chili, which I later ate in a salad. New levels of heat. "
---
Chris Rendell | Executive Chef at Highlands Restaurant Group

Bak Kut Teh "This literally means pork bone tea soup and is a Chinese soup dish believed to be introduced into Malaysia in the 19th century by Chinese workers. While kicking around the backstreets of Kuala Lumpar, I was lucky enough to find a Buk Kut Teh stall. Not sure at first what I had stumbled across, I could only image that the boiling aromatic pot of pork bone and spices had to be great thing at 11 a.m. in the morning and a good way to start the day off. This dish has become a popular item at events and also was the star of the show in a recent dinner at the James Beard house."

Nyonya Fried Chicken "For me, one of the truly unexpected dishes we cooked was this fried chicken dish. It wasn't the chicken part that surprised me, as most cultures have their own version, but the dipping sauce that we served with the dish was close to my heart. The use of hot English mustard powder and Worcestershire sauce (along with chili and kalamansi) was a trip back to the old country and would not be out of place at a Western table as an everyday condiment."
---
Dale Talde | Executive Chef, Talde

Smoked Pistachio Sambal "My favorite dish in Malaysia is not really a dish, but a condiment. Sambal is the equivalent of ketchup in Malaysia — eaten every day and in almost every meal on rice or as the base of laksa or in more complex dishes like beef rendang. For Talde, we are making a few different versions, but my favorite is the smoked pistachio and green chile sambal."
>>>Smoked Pistachio Sambal Recipe

Roti Canai "After Sambal, my next favorite dish [that we ate while traveling in Malaysia] is the roti canai. Roti is the light, crispy unleavened bread that locals usually eat for breakfast. When we had it one morning in Penang it was made with egg and onion. It's like my bacon egg and cheese at my bodega, I can eat it every day."