Meet Mr. Takedown, Matt Timms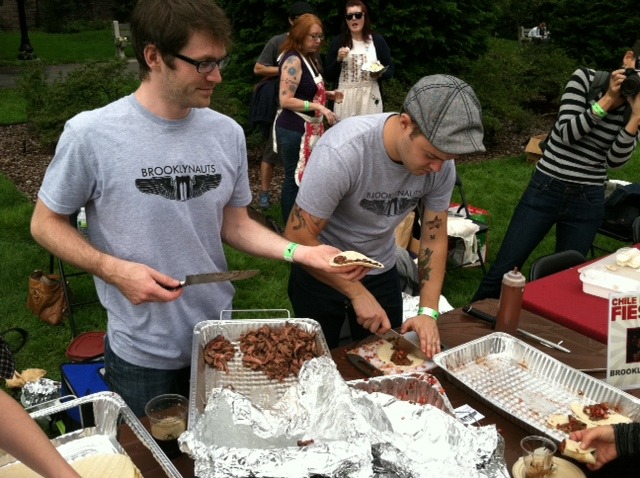 Matt Timms
Food competitions have become big moneymakers for the Food Network and major food festivals around the country. But, according to Matt Timms, the creator of The Takedown, there's something that gets lost on those sanitized, sound-stage kitchens.
"Everyone is so entitled," Timms says. "There's no passion in it. At a Takedown, you see real cooks who bring so much love."
You might call it that, or maybe it was gluttony, at last weekend's Chile and Chocolate Takedown at the Brooklyn Botanic Garden's Chile Pepper Festival. The event asked chefs and caterers to create the best chile-and-chocolate combination.
The rules? There are no rules. "I have no problem having a ravioli going up against a brûlée," Timms says. "That way, it's about craftsmanship."
It's also about knowing your audience. At the event, hundreds lined up to taste the dishes and mark ballots. The competition was diverse, including a Filipino sausage and chocolate rice dish, whoopee pies, a chocolate quiche, and a bizarret skirt steak taco with strawberry-chocolate pico. The food was interesting, if uneven, and the winner was a no-brainer: a crowd-pleasing (all homemade) chocolate, marshmallow, and spicy s'more, made by Emily Hanhan.
But Takedowns, despite the name, are not about the winning (although the prizes can be pretty good, sometimes including Creuset pots or Wusthof knives). "They're about meeting cool people and having a great party that revolves around food," says Timms.
Beginning in 2003, the first Takedowns were chili competitions in bars. Since then, Timms has seen his series grow into a multi-city phenomenon with a variety of themes such as fondue, salsa, tofu, or cookies. Bars are too small — he now looks for rock concert spaces. He's been to eight cities this year so far, and is looking forward to an avocado Takedown in Denver in November.
But before that, there's a planned Taco Takedown at the New York Food Film Festival on October 15, followed by the always-popular Bacon Takedown on October 16 at the Bell House in Brooklyn.
In fact, Timms has agreed to keep one competitor spot open for the Bacon Takedown until the publishing of this post, so you still have a chance to test your porcine skills. If you are interested in playing with fifteen pounds of bacon get in touch with Timms at his website.
---