The V-Slicer Of Doom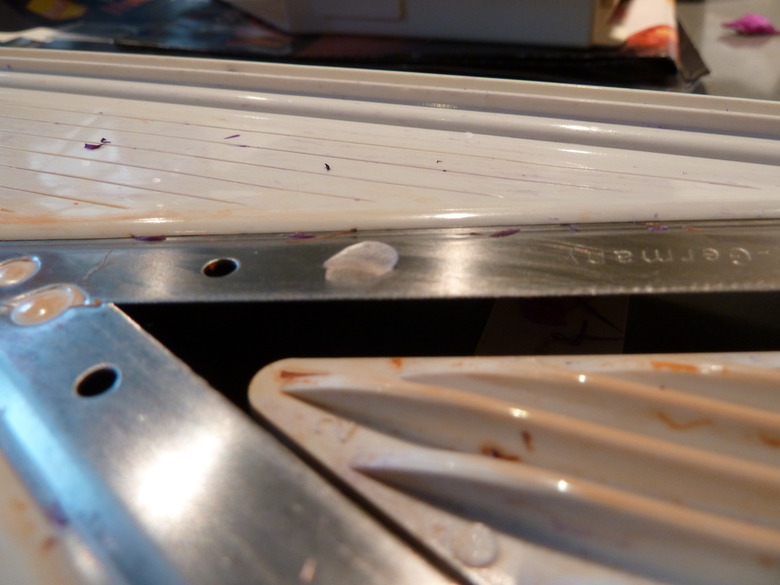 When your kitchen backsplash is splattered with your own blood, you know something very, very wrong has happened.
I'm not kidding. There I was, looking at my lovely white Heath Tiles, covered in the deepest, reddest, splotches of... me.
There's a saying I like to apply to my kitchen utensils: Cut me once, shame on you. Cut me twice, shame on me. So, let's rewind to that first time, when I lost a part of me to sharpest blade in my home: The V-Slicer.
The V-Slicer, also known as a mandoline, is a kitchen gadget that allows you to slice and dice vegetables with a super-thin precision that is impossible with a knife. They look like cheesy items that you see on infomercials, but every kitchen pro knows that they are quite useful.
What makes them so powerful? The sliding mechanism action, and the very, very sharp blade. Used expertly, the V-Slicer can turn your consumer kitchen into a commercial one. Used like an amateur, they can turn it into a death trap. That's the cue for my story...
Last Thanksgiving, I got the brilliant idea that my family should enjoy a finely chopped salad along with the usual turkey fare. I got to work on a variety of hard vegetables, including cabbage, green peppers and carrots. I decided to throw caution to the wind and opted to not use the safety guard, having faith that years of using a conventional grater would allow my well-honed instincts to halt slicing before my fingers got close to the blade.
Now I know: a V-Slicer is nothing like your average grater. Before I knew it, my finger slid through the blade. Blood gushed forth, and there it was: a sliver of my finger tip among the peppers.
Nine months passed when, last week, I decided to make some cole slaw. I immediately thought about using the V-Slicer. I hesitated, for sure, but then I reasoned with myself: I'll just use the safety guard this time, and I'll be really, really careful.
Things went well. I sliced red and green cabbage, along with some carrots. Although the safety guard is a little cumbersome, I got the hang of it. Things went so well, in fact, I ended up making the best cole slaw I've ever made. Here's an approximation of the recipe I gleaned from slaws made by Bobby Flay and Tyler Florence on Food Network:
½ head of green cabbage (finely chopped)
½ head of red cabbage (finely chopped)
2 carrots (finely chopped )
3 tablespoons mayonnaise
3 tablespoons apple cider vinegar
2 tablespoons sugar
1 tablespoon mustard
3 tablespoons chives, finely chopped
salt and pepper to taste
Of course, that's not the end of this story. After dinner, I wanted to put away the V-slicer so that no one in my family could get near getting hurt by it. I started washing the blades, when things started to heat up in the dining room. My toddler daughter grabbed something that belonged to her older sister, who started raising hell. I wanted to get them ready for bed anyway, but I just needed to get that damn slicer put away, so I was rushing, and while I checked on them over my shoulder, I continued washing the blade.
Yes, I was doing too much at the same time, while handling a killing machine.
Sure enough, the sponge disengaged a plastic attachment on the slicer, revealing the blade, which quickly cut into my downthrusting hand. In an instant, the top digit of my pointer finger opened like a book. Blood was everywhere: on the backsplash, in the sink, all over. Paper towels went from white to red like I was tye-dying them.
Eventually, I applied enough pressure to stop the geyser. Three days later, my finger still feels sore, but I think it's going to be fine without stitches.
Will I use the V-slicer again? Not any time soon. But, yes, I will. It's just such a great tool. I hope it goes without incident, but if it does, it brings to mind another good saying worth adapting to the kitchen: three slices and you're out.