NYC Wine & Food 2011: Oyster Bash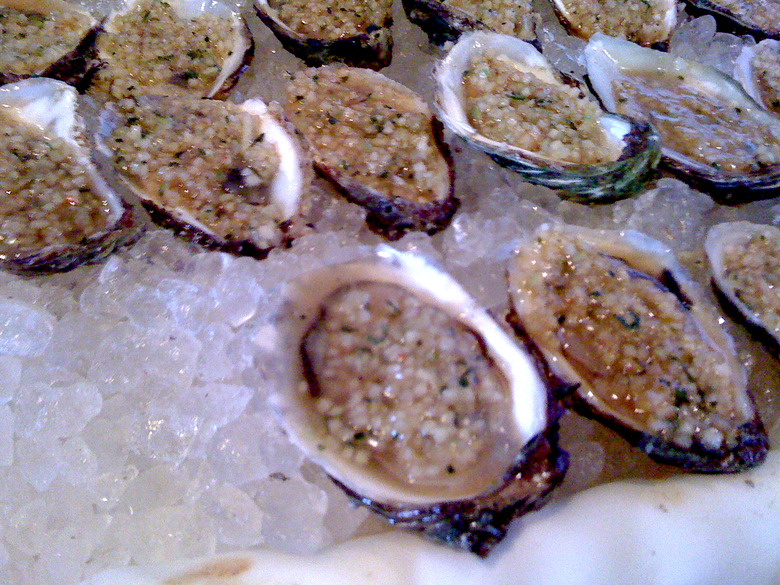 oyster bash 2011
It's one thing to shuck a fresh oyster and eat it au naturel, and another to create a garnish that won't...well, ruin it. I went to the New York City Wine and Food Festival as a purist — I take nothing on my oyster, save for maybe a squeeze of lemon — expecting to be disappointed at the treatment of the poor, sweet things. Then I saw the chef lineup and felt far more hopeful. 8 of NYC's finest speed-shuckers created 7 variations on the half-shell, ranging from herbal to tart to spicy, creamy, boozy, you name it.
While a couple of offerings suffered from unpleasant citrus pithiness or blandness despite the gussying up, they were all worth sampling and re-sampling. And then sampling again. Did I wake up from my post-event nap utterly parched from the seawater intake necessary to consume 31 oysters (and 3 glasses of prosecco?) I did. And I'd do it again.
Here's a list of chefs who participated and their oyster variations and varietals. Slurp.
Chef Mary Redding, Mary's Fish Camp: Rhode Island Watch Hill Oysters, Florida Citrus and Datil Pepper Mignonette
Chef Ben Pollinger, Oceana: Prince Edward Island Indian Creek Oysters, Citrus, Cucumber and Toasted Spices
Chefs April Bloomfield and Josh Even, The John Dory Oyster Bar: New Brunswick Beau Soleil Oysters, Vodka Shooter with Worcestershire and Tomato Water
Chef Dan Silverman, The Standard Grill: Maine Wiley Point Oysters, Pink Grapefruit, Jalapeno and Scallion Mignonette
Chef Michael Psilakis, MP Taverna: Washington Eagle Rock Oysters, Greek Yogurt and Pomegranate, paired with a shot of Luxco's Pearl Pomegranate Vodka
Chef Shane McBride, Balthazar: New York Widow's Hole Oysters, BBQ Sauce and Smoked Coleslaw*
Chef Michael Cressotti, The Mermaid Inn: Washington Barron Point Oysters, "Greek-style" — Spinach, cherry tomato and feta*
*(I had five each of these and am no longer an oyster purist)
Best of all, this was a sanctuary for lovers of raw bivalves such as myself. There was nary a mention of sea boogers or bottom feeders. I did pass one woman chiding her date to maybe just try a plain one — there were unadorned Wiley Points and Widow's Holes in addition to the chef's spreads — on my way to get a second glass of thirst-quenching prosecco. Or was it a third? I briefly felt sympathy for her before it dissolved (somehow) into another oyster craving.
More from the NYC Wine & Food Festival 2011: