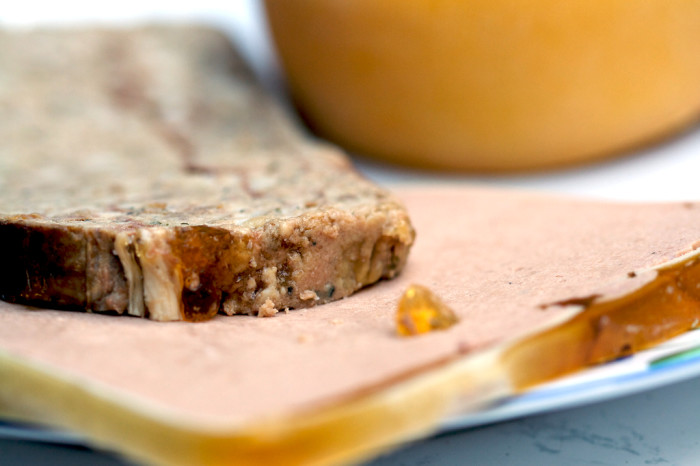 Pâté is a great food to like, all pretentious accents and ethical quandaries aside. If the mere idea makes you shiver, but you still fantasize about going all Frasier on your date, popping the cork on the first bottle whose label featured the word "chateau" and asking in your most refined drawl if she'd like some pâaatéee, you've got potential. It's been said you have to try a food 10 times before you can say with certainty whether you like or not. The stark reality of pâté on a cracker may not exactly start your engine, so smear it on a sandwich with other stuff you like and get your 10 times in so you can join the liver party.
I should note that this trick does not work with all sandwiches. Your classic ham and cheese and tuna melt (or blob in our case) do not beg for pâté; however, your prosciutto and smoked gouda would love it. Some of our more inventive sandwiches of the week, like Meat Cheese Bread's Green Bean Sandwich, with soft-boiled egg, lightly grilled vegetables, shaved Parmesan and bacon relish (yes, bacon and pâté love each other) would be delightfully enhanced with the addition of a little organ meat. One famous for its liver content is the banh mi, the apex of the baguette sandwich (something even veteran sandwich experts agree upon). Use your best judgment. If it has American cheese on it, maybe leave the liver off.
Got a turkey sandwich? Toss a slice of green apple on there, and pâté away. A thin slice for firmer terrines and a modest shmear for spreadable pates should do the trick. We've said it before and we'll say it again: Food Republic takes sandwiches very seriously. If you're in a rut, we're here to help.