NYC Wine & Food 2011: Fried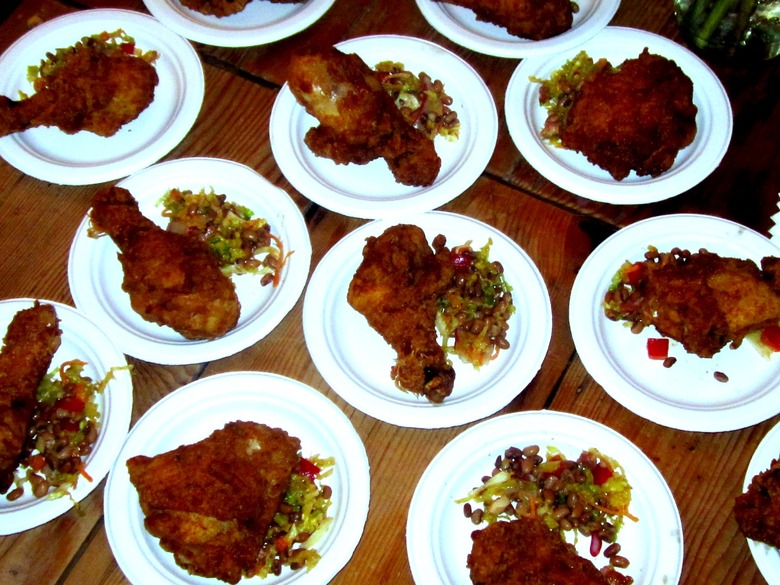 It's an ambitious proposition, even for those most-experienced food festival fans—enjoy (endure*) 20+ versions of fried chicken served by some of New York's and the South's finest birdmen. But this was the plan at Fried, held on Friday as part of the New York City Wine and Food Festival.
I arrived at Hill Country in NYC's Flatiron neighborhood and went straight for the plate being served by John Currence of City Grocery in Oxford, Mississippi—a restaurant I've been fortunate to visit on game day a few autumns ago. The man has some his frying skills. The plate did not disappoint—crispy even though it had been fried hours before. The issue with some participants was maintaining crunch, given all chicken was basically fried offsite ahead of time. Quite a challenge.Our dude Rob Newton from Seersucker also served a winner.
Downstairs—where I admittedly only observed the action—it seemed like Blue Ribbon and Brooklyn's long-favored Pies 'n' Thighs were commanding a crowd, as well as the table representing Red Rooster Harlem.
The event was hosted by Paula Deen's son, Bobby Deen. He served up a chicken-free sweet potato bake. Nice job hooking up your vegetarian friends!
*As I type, I'm experiencing a sort of sodium and grease comedown that lands somewhere between this and this.
---
Continue reading Food Republic all weekend as we report on-site from the annual blowout. And make sure to follow us on Twitter: @FoodRepub