Papa's Tomato Pie Flips Things In Trenton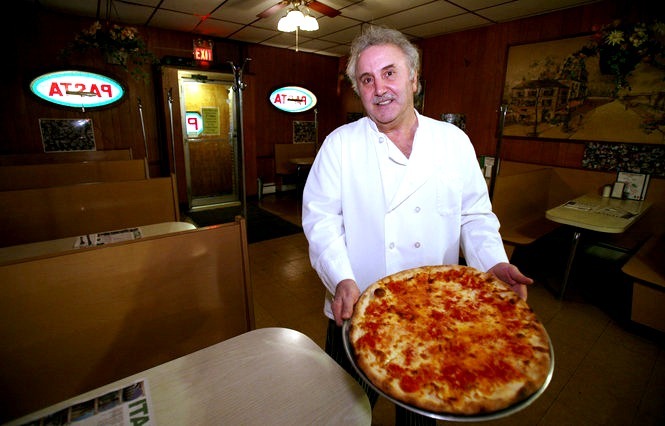 On a hot summer afternoon, my friends and I drove to Trenton, New Jersey to dine on a singular, upside-down delight: a tomato pie.
The typical pizza pie, beloved by generations of Americans, follows a standard construction pattern. Stretched dough is topped with herb-laden tomato sauce, then anointed with cheese and baked till gooey and crisp. Not so the tomato pie, the regional pride of Trenton. To create the cherished pizza, ripe tomatoes are simply crushed, not turned into a zingy sauce. A paper-thin crust is topped with olive oil and a smattering of mozzarella and then the chunky tomatoes. A drizzle of olive oil finishes the pie, which is cooked till it's as crunchy as a Saltine cracker.
In Trenton, the major practitioners are De Lorenzo's and Papa's Tomato Pies, the latter founded by Joe Papa in 1912. In the ensuing century, both Trenton and Papa's have gotten rough around the edges. Adjoining the pizzeria is a vacant storefront with a taped-on arrow pointing next door to Papa's. Its awning adorned with a mustachioed Italian chef—perhaps the inspiration for the Super Mario Brothers?—was held together with yellowing tape.
But stepping through the door transported us to a kinder, gentler, doo-wop–filled era: Vintage lights dangled over wooden booths, while the walls were filled with photo collages of contented customers. We ordered a large pie. Upon its hot, steamy arrival—on a round metal sheet—you could've snapped a pic of our smiling mugs and tacked it to the wall too.
The circular feast was a kaleidoscope of vibrant red and oven-blistered white, the edges cooked as dark as an equatorial tan. I bit into my slice. The crust crunched as if it were a kettle-cooked chip, the textural tomatoes' natural sweetness singing as loud as the creamy mozzarella—a purer expression of ingredients operating in concert.
Sometimes, you see, Papa's really does know best.
---
More Pizzas of the Week from Food Republic: