NYC Wine & Food 2011: Meatball Madness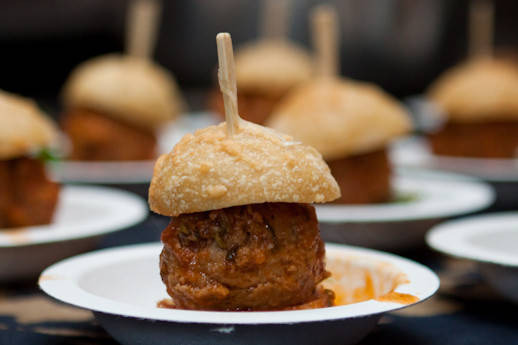 Food Network star Giada De Laurentiis helped kick off the annual New York Wine and Food Festival with Meatball Madness — a battle of the balls where 30 local chefs competed for top honors. The Little Owl's Chef Joey Campanaro took top honors with his famous gravy meatball slider. Campanaro's good friend Harold Dieterle — the Top Chef Season 1 winner and Kin Shop chef-owner — captured silver with a goat meatball spiked with a spicy Thai panang curry. The People's Choice prize went to the dudes from the popular Lower East Side and Williamsburg ballers Meatball Shop. Apparently, the public was damn impressed with their steak 'n' bacon hybrid.
To wash down the hearty fare, Campari served two signature cocktails: the classic Negroni (Campari, gin and sweet vermouth) and a Negroni Sbagliato, where prosecco subbed for gin. The drinks were mixed by Cooking Channel's "Drink Up" host Darryl Robinson and Dutch Kills' Richie Boccato.
---
Continue reading Food Republic all weekend as we report on-site from the annual blowout. And make sure to follow us on Twitter: @FoodRepub