5 Places To Eat And Drink: Warsaw, Poland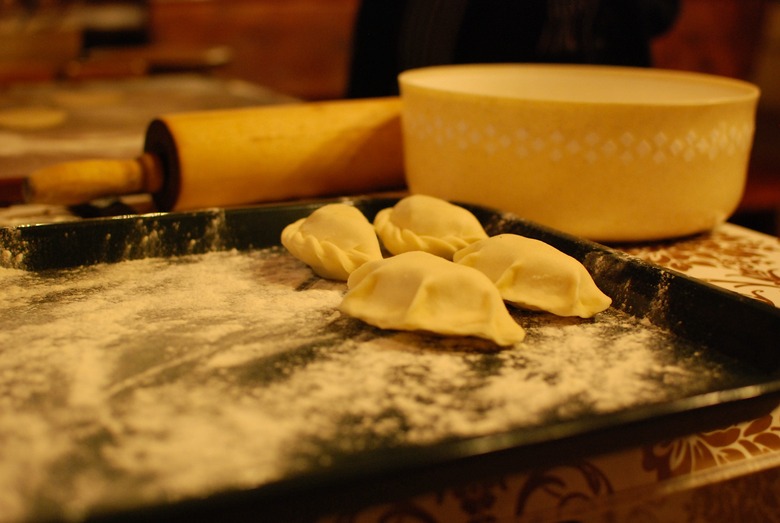 I tend to subconsciously personify cities. New York, for example, is decidedly male. Ambitious. Empowered. In my mind Manhattan wears a perfectly tailored suit, even to...screw that...especially to a Yankees game. Paris? She's a dame of similarly chic, but more romantic proclivities.
Thus, when I landed in Warsaw, Poland, I began to look for the city's character that I had envisioned—the loveliest grandmother one could imagine, filled with wisdom and a warm smile. Her cafés, bars and restaurants giving true meaning to the term "comfort food." But Grannie ain't no slouch when it comes to shots, either.
Here's my hour-by-hour food and drink tour:
U Kucharzy translates to "At Chef's" in English, and it's the perfect place for a Polish lunch. You can dine inside, literally among the chefs, in a space that's a repurposed former hotel kitchen. Perch at long butcher-block tables giving way to views of beautiful tile floors, hanging sauté pans, boiling stockpots and the staff's rapid knife skills. If the weather is nice, sit outside and let the food come to you.
Hot fish chowder, bright orange from carrot puree, perfectly salted and full of thick pieces of white fish, or neon pink cold borscht that's thick and decadent as lunching on dipping sauce, arrive at your table via a push cart and a smiling sommelier-of-soup, ladle at the ready. Veggie pierogies, wearing a dusting of caramelized shallots and garlic, are doled out from a steaming cast iron skillet. For mains, slice into the schnitzel-thin veal chop topped with a fried egg, accompanied by roasted carrots and savory onions.
7 p.m.
Chef Pawel Oszczyk has done a tour of duty in some of Poland's best kitchens, including the Hotel Bristol and the Polish Business Roundtable Club in the Sobański Palace, but now his cuisine is front-and-center at La Rotisserie inside a boutique hotel, Le Regina. Starters like creamy fennel soup showcase the city's old-world sensibilities in food and the experimental, international edge makes a debut in main courses like the roasted fillet of turbot with ragout of asparagus and morels, delicately decorated in a caviar emulsion.
His tiramisu, pillowy, delicate and accompanied by sturdier amaretto truffles and chocolate sorbet, fits the landscape surrounding diners, from the cream-colored vaulted ceilings down to the plush chairs bathed in warm toffee light.
10 p.m.
My lone regret of Warsaw is that I didn't get to dine at Sense Cafe. The menu plays up my two favorite things in life — Japanese fusion and sexual innuendo. I'm convinced the Himalaya samosas, under the Foreplay section, would have been delicious, followed by confusing but pleadingly experimental Monte Casino. Come on. Don't tell me you aren't going to try something described as "strawberry lime lasagna" listed under "Happy Endings."
12:00 midnight
After you are sufficiently lubricated from your session at Sense, march over to Mazowiecka Street. You need a pre-game buzz to handle this road, which is awash in neon nightclub monikers. The best of the lot, undisputedly, is The Bank. Multiple bar stations, large VIP areas and two mezzanines are punched with a wall of sound compliments of a DJ and by a live musician. Ordering is easy. Follow the signage. Every nightclub on Mazowiecka has been branded. In the way a Las Vegas venue might sell their cocktail menu to Ketel One or Patron, Warsaw's put the whole room on the auction block. The booths are branded. The carpet is logo'd and the chandelier just might be shaped like an Absolut bottle. When in Rome ... well, ya know.
2 a.m.
Have your goodnight beer at Przekąski Zakąski in Old Town. No, I can't pronounce it either. We wrote the name on a napkin and waved it at locals on the street till we found the door. If you speak Polish, it's hilariously simple. Drinks — a beer or a shot of vodka — are 4 Zloty ($1 US). The eight traditional Polish dishes ring in at 8 Zloty each ($2). If you don't speak Polish, though, it's laughably hard.
Either way, it's a good time. This standup authentic snack bar is basically Grandma Poland's way of tucking you in and diminishing the chance of a hangover with options like gamey liver pâté, pickled herring in oil and a delightfully seared, spicy white sausage with a thick dollop of mustard.
---
More Eat and Drink Guides on Food Republic: