The Trump Card Date: Wine Tasting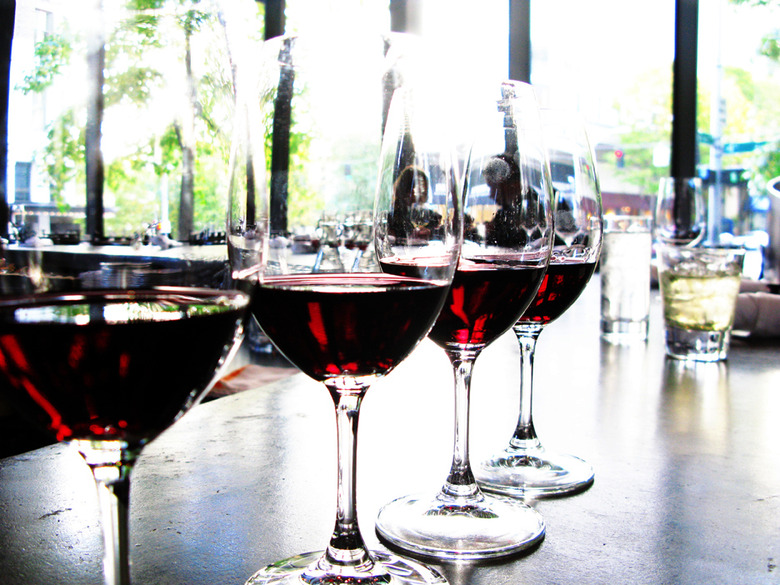 Wine Flight
Listen up, Heart Attack Date Squad! I'm doing my best to break you out of your dating rut because your standard dinner and a movie makes you look like the most boring dude on the block. Over the past month or so, I've sent you out to the orchards to pick some forbidden fruit and off to a food-themed class to get some learning to go with your loving. This week, I want to talk about the most classic of dates: the wine tasting date. Most guys think of wine as a classy alternative to flowers. Show up with a bottle on a date and you guarantee yourself some bonus points. Even if the date doesn't go well, you'll still wind up with a healthy buzz. While I'm a fan of lambrusco for capping off a successful evening, I think you'd be wise to add the wonderful world of wine tasting to your dating repertoire.
There are two ways to go wine tasting on a date. The first involves living near a vineyard. That's not as hard as it sounds. Winemakers are popping up everywhere. As it turns out, you don't need to be in the Napa Valley to grow grapes. If some guy can make wine in the frozen Chicago suburbs, then there's probably a tasting room near you whether you know about it or not. Call ahead and ask about the tasting program. If they only pour four types of wine and you're in and out in 20 minutes, it might not be worth the drive. On the other hand, if there are a few vintners all in the same area and they give tours of their facilities, it might make sense to make a day of it. You can also avoid the inevitable drinking-driving conundrum (here's a hint: DUIs are not sexy) and see if any local limo companies do wine-tasting tours. They'd be happy to be your designated drivers for the day.
The other way to go wine tasting is a little more approachable. Instead of going straight to the source, have a bunch of sources come to you at a wine bar. Wine bars are excellent ways to introduce yourself and your date to a great variety of wines without having to get your own sommelier certification. Most offer a bunch of wines by the glass or, even better, do wine flights where you get mini-samples of a few different bottles that are all related by vintage or varietal or region. My girlfriend started working at a wine bar called 3Twenty Wine Lounge and she says that more than half of the customers that come in seem like they're on a date.
When you're picking out a good wine bar for a date, you want to look for a few things. If you're not a big wine guy yourself, you want someone who will guide you and your date through the process. The owner of 3Twenty, Edgar Poureshagh, is a self-proclaimed wine geek and loves to talk wine with anyone who will listen. That's the type of dude you want helping you out. You also want to try a bunch of different wines. 3Twenty has an Enomatic® wine system that lets you pay by the taste. Instead of getting stuck with a full glass of something that tastes like old Sour Patch Kids, you can jump around from bottle to bottle without being penalized for your wine A.D.D.
In my opinion, the number one thing you should try to find in a good wine bar is the right mood. For a date, you want something casual. You don't want some snooty place that makes you feel bad for not knowing the difference between a barolo and a brunello. You want to feel as comfortable as possible as you and your date get grapey.
Overall, you can't lose with a wine tasting date. It doesn't matter if you go to the winery itself or just head to your nearest wine bar, they're both great options for shaking you out of your normal dating routine. It also doesn't hurt that there's, you know, massive amounts of wine involved. So pay a little tribute to Dionysus and go sample some wines with your best gal. You might be a little groggy in the morning, but hopefully it'll all be worth it.
---