Tailgate Toe-To-Toe: Miami Vs. San Diego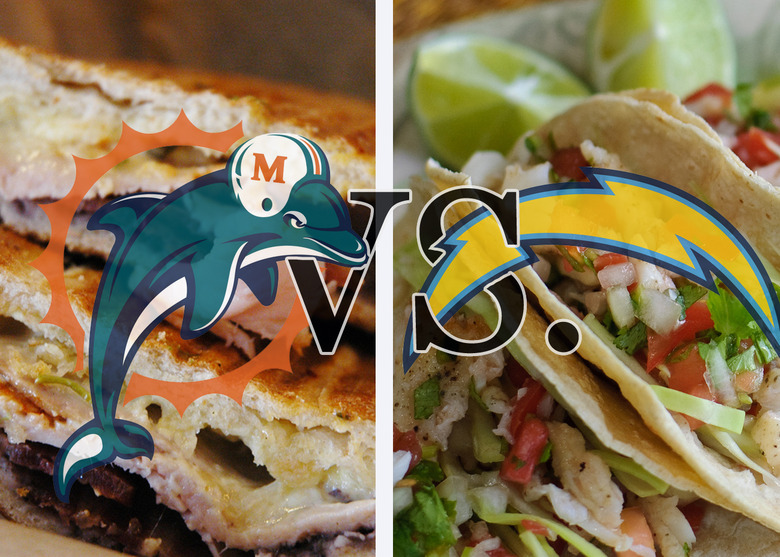 Dolphins V. Chargers
Tailgate Toe-To-Toe picks a weekly NFL game and analyzes the matchup—on the field and in the parking lot.
Nothing says Football Americano like a nice Cubano sandwich—that's ham, roasted pork, Swiss cheese, pickles and mustard for the truly uninformed. An open grill invites pork shoulder to the mix, which is ready to be shredded and put onto a bun—or stuffed into a pepper or served over rice and beans. Even the colors of the Miami Dolphins, a beach appropriate aqua and coral, beg for a Gloria Estefan dance beat. Finish the menu with key lime pie, the citrus dessert goes nicely with several beers and cocktails.
But since Miami will be on a road, let's shine a spotlight on a relatively new tailgating group—the Phinvaders. The goal is simple: get as many Dophins fans sitting together in enemy waters as possible. Inspired by a 2009 road game in Atlanta, the trend is growing and the group boasts a map on their website, highlighting the states they have conquered thus far with their pig skin imperialism. (It's only three at this time.) The one Phinvader constant you can find in any parking lot is that they are never without a turkey fryer to cook up their signature wings with original Red Death Sauce. Next season, the posse plans to trek north to visit their division rival Buffalo Bills and chow down on Miami Wings.
Much like their competitors, San Diego borrows their cuisine from a neighboring country and incorporates their local ingredients to the lovable fish taco. Surfers rejoice at the variety of seafood stuffed into a homemade tortilla. There's nothing in the football rulebook that says you can't grill up shrimp, flounder or mahi mahi to satiate that Calif-exican craving.
Fresh out of high school, four Chargers fanatics would park themselves outside the then-named San Diego Jack Murphy Stadium with some Whoppers and take-out pizza. Today Dominic Giammarinaro and his creatively-labeled San Diego Chargers Tailgating group invade Qualcomm Stadium by enacting "Taco Guy Day." They actually hire a taco-chef from Tijuana to drive up and preside over the tailgate! Badass. Other Sundays you can find the Bolts-battalion holding Iron Chef and Iron Mixer competitions—always pushing the envelope in ways to get stuffed and smashed before kick off.
The 0-3 Dolphins just dropped a heartbreaker in Cleveland when Colt McCoy threw a 14- yard touchdown pass with 43 seconds left in the game. That makes coach Tony Sporano's seat a little bit hotter. Chad Henne hasn't been as dismal as a lot of forecasters thought, and alleged self-imposed stab wound victim Brandon Marshall looks like the old Denver version of himself.
Now they find themselves in San Diego, where the Chargers have started the season on the right foot at 2-1. Phillip Rivers is trying to live up to the MVP Candidate hype, even if that means he has to do it without his favorite target, Antonio Gates. Miami rookie RB Daniel Thomas has proven to be a fast learner, and he's complemented by change-of-pace back, Reggie Bush.
This doesn't bode well for a Chargers D that has given up over 111 rushing yards per game. Then again, the Dolphins rank 30th in passing defense and Rivers can have a field day with the likes of Vincent Jackson. The anticipated emergence or Ryan Matthews and the steady play of Mike Tolbert will force Miami to respect a balanced offensive attack. So while it could be a good day fantasy wise for Thomas, the rest of his 'Phin teammates look to be out of luck. GAME PICK: Chargers 24 Dolphins 13
As far as cuisine goes, I'm a sucker for avocado and spice. Fish tacos are delicious enough for me to order them off a menu and light enough for me to fill the rest of my stomach with alcohol. In addition, staying away from pork might give me the veiled illusion that the other crap I'm ingesting is somewhat healthier. This is a no brainer. San Diego takes the T4 sweep. FOOD PICK: Fish Tacos 24 Cubano Sandwich 10
---
More football food and drink on Food Republic: