Cognac Came Early This Year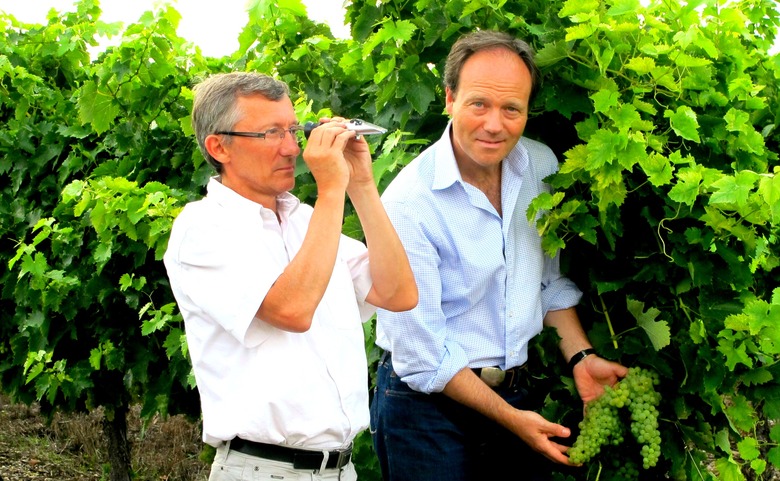 A funny thing happened in Cognac this year. The grapes came early. At least that's how Guillaume Lamy, Vice President at Cognac Pierre Ferrand, puts it. An unusually warm spring and rainy summer resulted in an early harvest in the French brandy-producing region – the earliest in some 40 years, in fact. Lamy explains just how this will affect the spirit.
How early was the harvest this year, exactly?
The harvest usually starts in the third week of September. This time, we started the last week of August. It doesn't happen very often in Cognac—or anywhere in France, really. It was a record year.
So, was it a good harvest?
It was actually a good one for us. You need acidity for Cognac, more than for any other wine, and we were able to maintain a good level of acidity in the grapes. It's necessary for distillation. And, luckily, the rain didn't affect the grapes too much. Because, for Cognac, you need juice: it takes eight bottles of wine to make one bottle of Cognac.
How much can a particular harvest really affect the final result?
When you make Cognac, you try to capture the essence of the fruit. Like when you make perfume, you are trying to capture the essence of the flower. For that, you need the right balance between acidity and fruit, and not too much alcohol or it can overpower the aromatics. We work from wine and wine is different every year. Of course, there is no vintage on the label. Like with Scotch, it's up to the master blender to keep it consistent year after year.
How has Cognac consumption changed in recent years?
People are really getting into it and I'm happy to see that. I've been doing this for 12 years and it wasn't always easy to get people to drink Cognac. But Cognac is actually becoming cool. There's been a lot of education in the last couple of years. People are starting to understand that Cognac is one of the most authentic spirits available. Armagnac is 700 years old.
Why do you think people are getting into it?
The renaissance of classic cocktails has a lot to do with it. Now, we have lots of bartenders coming in to see us in Cognac. And they bring that knowledge back to their customers. Some 30% of all the cocktails in the Jerry Thomas and Harry Johnson books were made with Cognac. How come the French don't know about that? It's amazing.
Has this changed how you do business?
It pushed us to launch Pierre Ferrand 1840. We researched and tasted 15 different Cognacs from the 19th century that we bought on auction. It's one of the beautiful things about working in the spirits industry: if you want to taste something from 200 years ago, you can. So, we analyzed this old Cognac and made something inspired by it. The 1840 is much more fruity—back then, people didn't want things to be so aged. They liked the fresh fruit flavors in Cognac. It's also high in alcohol, which is good for mixing in cocktails.
What's the best way to enjoy Cognac? In the ol' snifter?
I don't want to categorize Cognac as an after-dinner drink. There was a very popular drink, back in the day, of Cognac mixed with seltzer. My granddad drank his Cognac this way. So, I would tell people today to drink your however you want. If you like your bourbon on the rocks or water in your Scotch, enjoy your Cognac the same way. If you think the Pierre Ferrand Ambre would be beautiful with a cube and lemon twist, do it that way. Why not!
If you're a Cognac novice, a good introduction to the spirit is with a well-balanced drink. Not that you need to be a newbie to enjoy your Cognac in a cocktail.
The Original Cognac Cocktail
(Adapted by David Wondrich from Jerry Thomas' Bar-Tenders' Guide, 1862)
2 oz Pierre Ferrand 1840 Original Formula
1 teaspoon orange liqueur, such as Mathilde Orange X.O. Liqueur
2-3 dashes aromatic bitters, such as Fee's Whiskey Barrel Bitters, The Bitter Truth Aromatic
Bitters or Angostura bitters
1/2 teaspoon superfine sugar
In a mixing glass, stir the sugar with 1 teaspoon of water, until sugar has dissolved. Add the other ingredients and fill the glass with cracked ice. Stir well and strain into chilled cocktail glass. Garnish with a twist of lemon peel. For an Improved Cognac Cocktail, substitute the orange liqueur for maraschino liqueur, and add a dash of absinthe.